What's life like in Buffalo three years after Covid hit
At Millard Fillmore Suburban Hospital in Amherst, people in scrubs are doing their work, caring for the sick, while wearing medical masks. The N95 masks and tightly sealed goggles are mostly set aside. The tension that wrapped around every molecule of oxygen in the air during the hottest part of the pandemic has melted. Today, people smile more. They laugh easier.
What's also very noticeable are the doors.
"As you can see, as opposed to the last time, most of the doors are open," said Dr. Lucy Campbell, the attending physician in charge of the intensive care unit, one afternoon last week. "The nurses are talking to the patients not through this glass. We have family members able to be with the patients. Totally different."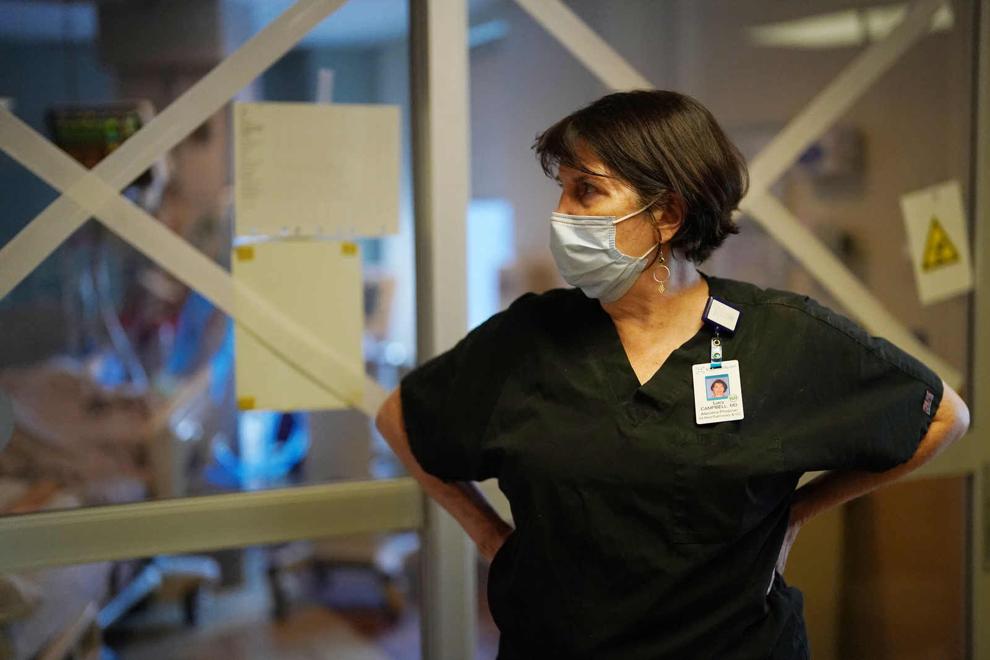 "Last time" was three years ago, when the pandemic began and Covid-19 was surging. Unsuspecting immune systems didn't know how to handle the virus, and neither – yet – did doctors. As much of the modern world retreated, as curbside takeout and Zoom became our norm, the people who work in hospitals kept showing up. Because so did the patients.
Many times over the last few years, the 20 rooms in this critical-care unit were filled with Covid-19 patients who were fighting for their lives. Some of the people who work here can remember patients who died in every room. The worst of times were 2020 and then, after a summer-to-fall reprieve, much of 2021, when the deadly Delta wave revealed the danger and unpredictability of Covid-19 variants.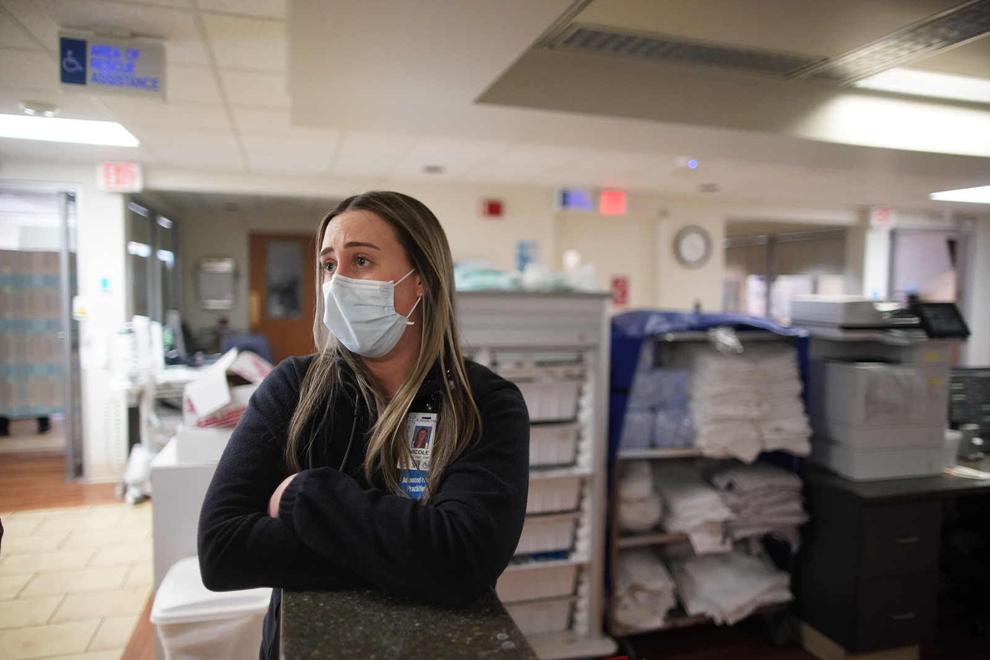 "You saw a lot of death," said Nicole Zahn, who began her career as a nurse practitioner in the winter of 2020. "There was a lot of death. I mean, there were times when you would leave, and there were four or five patients that died on your shift.
"It was just hard. It put a lot of things into perspective."
Today, hospitals aren't overrun with Covid-19, but the virus is not gone. As we circle around the hallway of the ICU, we come upon a room that is closed. White tape forms a large "X" across the glass windows and door. This signals Covid-19. The patient inside is unconscious, breathing through a ventilator and lying stomach down – "prone," in medical terms – to allow the lungs to capture as much oxygen as possible.
Fewer Covid-19 patients today reach this critical point. Immunity from vaccination and previous infection, early stage treatments like Paxlovid, and medical professionals' three years of experience all combine to keep most people from getting this sick. But some still do, and the reasons why aren't always explainable. This patient, for example, was fully vaccinated and in their early 60s – old enough to be at risk, but not nearly as much as someone in their 70s, 80s or 90s.
When Covid-19 patients do reach the point of ARDS – acute respiratory distress syndrome – doctors have only one thing now that they didn't have in 2020: experience.
"There is no therapy developed that has been shown to work for somebody once they are in severe ARDS," Campbell said. "It's no different once you've gotten to the ICU."
The reminder is stark: Covid-19 is tamed but not gone, and the implications for people on the front lines of the pandemic remain raw.
Then and now, the medical professionals fighting Covid-19 are seeking success stories. They are reuniting families, reinvigorating people and saving lives.
Their success stories abound. One of Campbell's earliest patients in the spring of 2020 was Ivan Gonzalez, then a 52-year-old Buffalo teacher, husband and father of four boys. He caught the virus in March three years ago, fell deathly ill and was hospitalized in Buffalo General Medical Center for more than a month. His body went into septic shock, his blood pressure plummeted, and he experienced nightmarish visions – envisioning plastic body parts and moaning corpses – while sedated and ventilated. But he pulled through, regained his strength and even was able to return to playing hockey.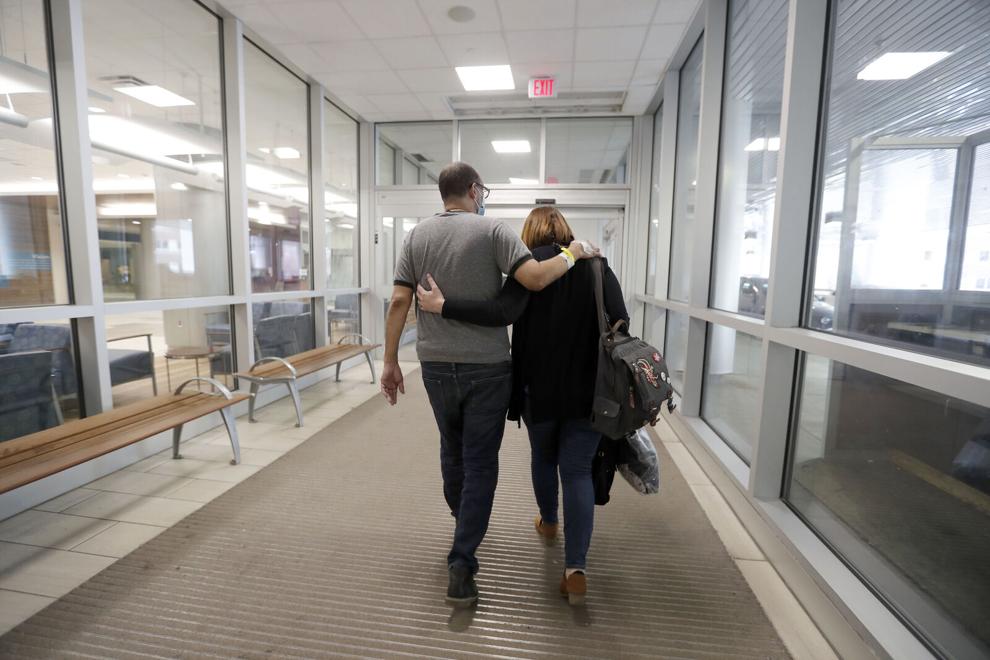 "In a sense, it's kind of changed me as a person," Gonzalez said, explaining that he views the future with a greater sense of possibility, and the present with appreciation. "At the end of the day, what I walk away with is how fleeting life is."
Embracing the fragility of life, and channeling that into change, is vital for Covid patients who faced down death. Valerie Brown, a teacher from Lancaster, contracted Covid-19 when the virus surged through her school in the spring of 2021. She was then 61 and a smoker. Brown was hospitalized at Millard Fillmore Suburban, where her oxygen dropped to 77%. (It should be in the mid- to high 90s). Brown was nearly admitted to the ICU, but hours of therapy and treatment daily – much of it involving lying prone to open up her lungs – kept her out of critical care.
Today, Brown is back teaching and treating her health with care. She is fully vaccinated, has given up smoking and when she caught Covid-19 again last year, was given the therapeutic Paxlovid, which knocked out her symptoms in a couple of days.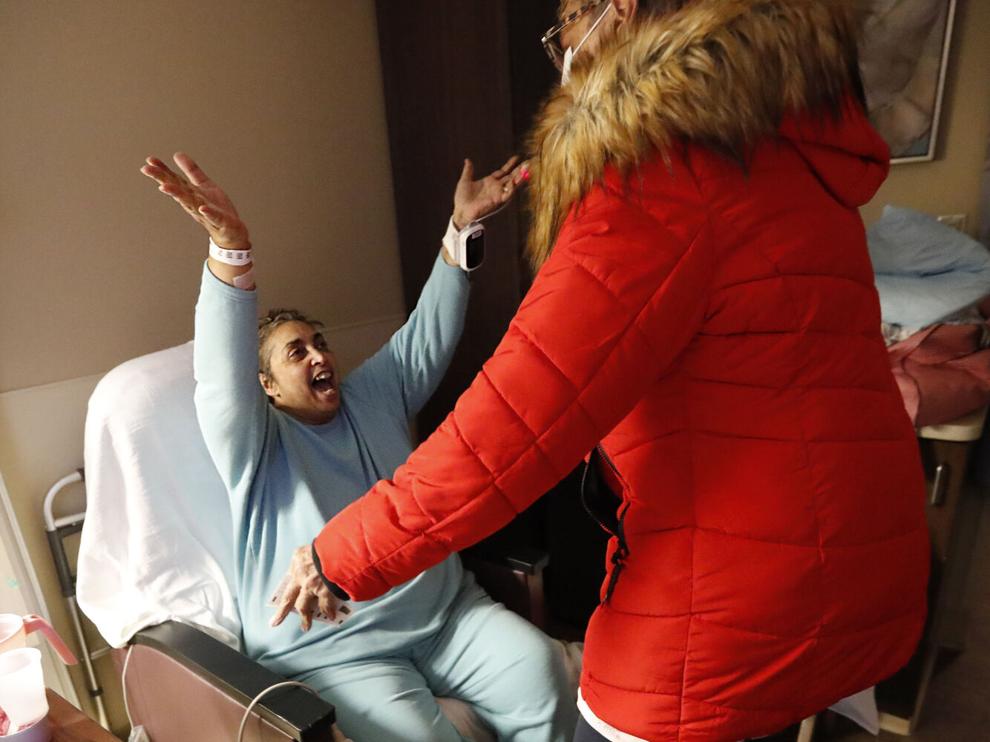 "I know it could have went absolutely left for me, and I'm grateful for the care I received when I was in the hospital," Brown said. "It humbles you. When you have something like that happen, if you're not humbled by it, something's wrong with you. You get humbled. You get grateful, and spiritually, I'm grateful to God."
Exponentially more people have lived than died with Covid-19. But for health care providers who are closest to the patients, every death cuts like a dagger. Erin Hegarty-Snyder, a registered nurse at Sisters of Charity Hospital's St. Joseph Campus, dreamed of her patients at night and clipped the obituaries of those she lost. "I don't know how not to care," she said in a March 2021 profile.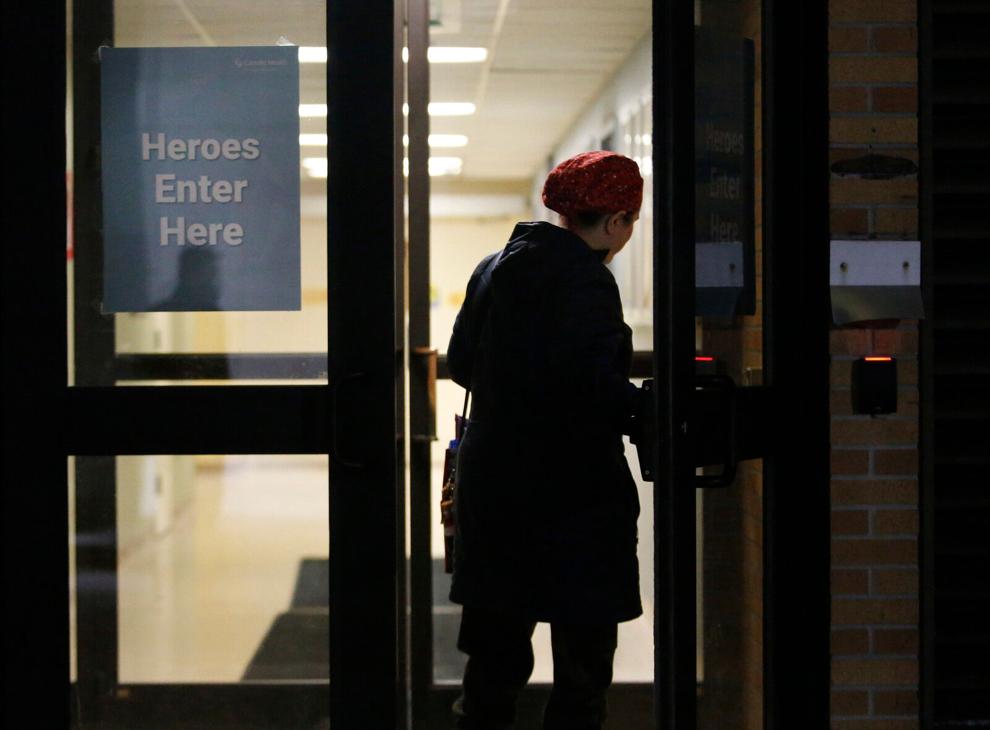 Today, Hegarty-Snyder works three days a week in the emergency department at St. Joseph Campus, a role she played before the pandemic.
"The beauty of being in the ER is that you see a variety of different people," she said last week. "Prior to Covid, people seemed much more appreciative of the care that you gave them. Now, it appears at least in the ER, to be more of a demanded service that is owed to them …
"You have someone who presents to the ER with a sore throat, and they're upset that they have to wait half an hour before the physician actually makes it into the room because we were just taking care of a critical patient."
Fewer family doctors are seeing sick patients in office, which in turn is driving more people to urgent care and emergency rooms. Combine that with a health care worker shortage – which the surgeon general has warned will amplify at alarming levels over the next decade – and you have the perfect storm for exhaustion. A nurse.org survey conducted in late 2022 found that six in 10 nurses "still love being a nurse" – which implies the less-than-comforting thought that four in 10 nurses might prefer to be doing something else. Nurses are also "reporting high levels of burn out, mental health suffering, lack of support, and more," according to the organization's "This Is The State of Nursing" report.
This resonates with the experience of Hegarty-Snyder and many of her colleagues, and it's not just money and staffing issues. Impatient patients – people who show something less than gratitude – can be wearing. The lack of empathy is casting its shadow.
"I still truly enjoy taking care of sick people," Hegarty-Snyder said. "I just feel like in general, society has changed with Covid."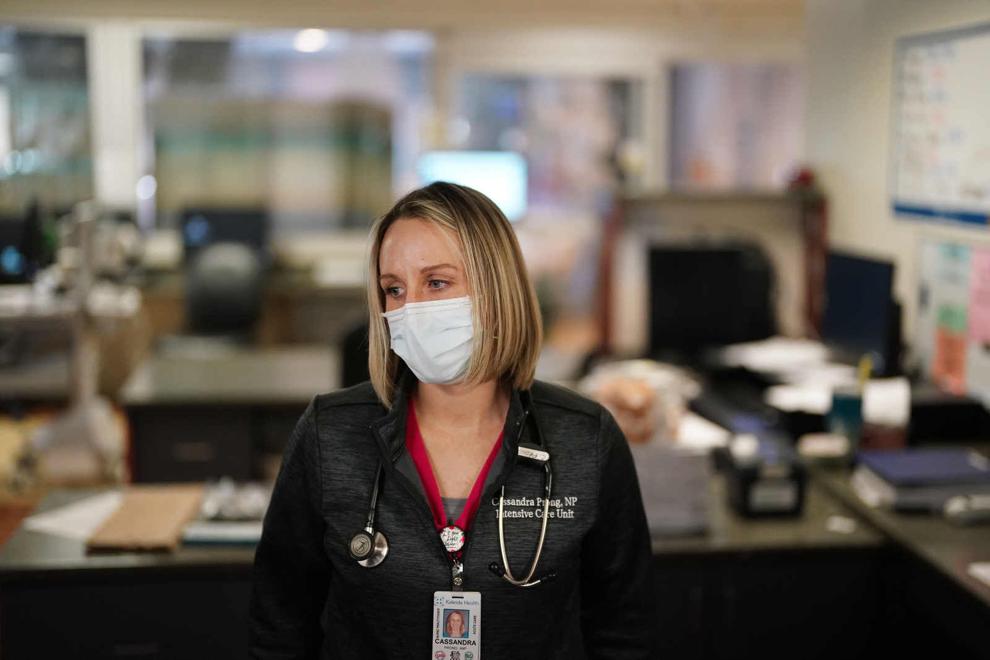 We're now grappling with those changes. Cassandra Prong, a nurse practitioner at Millard Fillmore Suburban, balanced the long, heartbreaking Covid shifts with working alongside her husband to help their young children learn remotely at home.
"You realized what appreciation you have for all teachers of all ages," she said. "You value the educators who dedicate their lives to being with your children. It gave me an appreciation for them, an appreciation for my family, and appreciation for all the times we took for granted. For getting together at all the holidays."
It's an appreciation for relationships, communication and loved ones. Health care workers in the hottest and hardest parts of the pandemic became the go-between for families and patients. They held up phones and tablets so people hospitalized with Covid-19 could speak with family members who couldn't – or sometimes out of fear, wouldn't – come in person. They became adept at explaining complicated and often difficult medical news over the phone.
They facilitated final goodbyes for others, and faced them in their own lives. Prong's father-in-law died after a battle with Covid-19 in another hospital.
"We weren't allowed to visit," she said. "That was hard to be someone who is a provider in critical care, taking care of Covid patients 24/7, practically, to be restricted seeing my loved one in the exact same situation that I would be expected to come to every single day, work exhausting hours to only see how devastating it was on the personal aspect as well."
Today, the heartbreak isn't easier. Covid-19, at its worst, isn't less dangerous. For nonlethal cases, the potential for long Covid – where symptoms persist for months – still looms. Dr. Thomas Russo, the chief of infectious disease at the University at Buffalo, points out – as he has relentlessly for years – that "max protection" through vaccination and boosters is one of the best preventative measures. "It all begins with our vaccines," he said.
The availability of that vaccine changed the trajectory of the pandemic, and it is why so many doors that were closed for years are – even as Covid still spreads – finally open today.
link