Quebec has lost nearly 21,000 health workers in less than two years
The departure of so many workers in such a short period of time is placing the health-care system under tremendous pressure.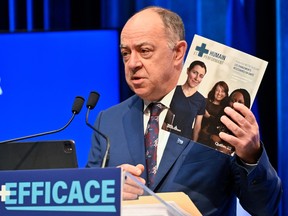 Article content
In less than two years, Quebec has hemorrhaged almost 21,000 health-care workers, including a net loss in the number of nurses during the COVID-19 pandemic, the latest government figures show.
Article content
The departure of so many workers in so short a period of time is placing Quebec's health-care system under tremendous pressure, forcing hospitals to close 2,000 beds across the province and leading to record emergency-room overcrowding, as well as a growing backlog in year-long elective surgeries at the McGill University Health Centre.
Article content
On July 3, 2021, the government employed a total of 349,582 workers in the health and social services system. By April 22, that number had dropped by 20,823, or about six per cent. Most of the workers who quit the system were nurses. Their ranks plummeted from 68,078 to 62,821 — a net loss of 5,257 nurses.

Physicians, who are classified as independent workers, are not included in the Health Ministry's overall numbers. Their ranks actually increased slightly by 292 to 20,671, although those stats date to 2021-22 and do not reflect this year. In any case, the government has acknowledged that there is a shortage of physicians, with hundreds of thousands of Quebecers without a family doctor.
Article content
One of the major consequences of the pandemic has been a decrease in medical staff worldwide. In Quebec, hospitals are grappling with a wide-ranging shortage of medical personnel that includes respiratory therapists and laboratory technicians, among many other workers.
"I'm not surprised by these numbers," said Paul Brunet, executive director of the patient-rights group Conseil pour la protection des malades.
"Why would so many people leave (the health-care system)? The reason why is that they're not happy with the job they are given and the conditions."
Health Ministry spokesperson Marie-Claude Lacasse suggested that the decrease in human resources is somewhat misleading because some workers had put off their retirement for a few years to lend a hand during the pandemic, and decided only recently to retire.
Article content
However, union leaders have pointed to a rise in burnout during the pandemic among overworked nurses, prompting some to retire earlier than they had planned, while others have quit the profession altogether.
In response to the shortage, the government aims to recruit about 600 nurses from Tunisia, Cameroon, Morocco, Algeria, Lebanon and Haiti by the fall. Quebec has already succeeded in hiring 400 nurses from those French-speaking countries since last year. Yet even with recruitment of nurses from overseas, the province will likely still have to contend with a lack of nurses in the next few years.
Antoine de la Durantaye, press attaché to Health Minister Christian Dubé, acknowledged the shortage of medical personnel.
Article content
"First of all, we must be careful with comparisons," he said in an emailed statement on Friday. "We must remember that during the pandemic, many staff members, whether doctors or nurses, decided to delay their retirement or returned to work to help out.
"That being said, it is true that there is currently a shortage of staff in our health-care network. We are aware of this and that is precisely what we are working on."
In addition to recruiting foreign-trained nurses, de la Durantaye noted, Quebec is training 1,800 nursing assistants in an accelerated program. The first cohort of 41 nursing assistants graduated last month.
And last Tuesday, Dubé announced a new training program to hire as many as 5,000 orderlies or patient attendants. Under the recruitment drive, $12,000 scholarships are being offered to those training to become an orderly.
Article content
This follows the latest stats from the Health Ministry's dashboard showing that the overtime rate for orderlies is the highest among all categories of workers and has been rising steadily, suggesting there is also a severe shortage among patient attendants despite the fact that the government had already trained and hired several thousand during the pandemic.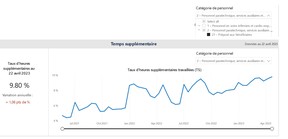 De la Durantaye added the government hopes that with its proposed reform of the health system, known as Bill 15, it will be able to hire and retain more workers. Last June, Dubé also announced a three-year increase in medical-school enrolment.
But all these changes will take time while the health system is overburdened as never before and as the Quebec population ages.
Opinion: Don't blame family doctors for shortage in Quebec

Opinion: This isn't how to solve Quebec's nursing shortage

link