Nurses Week 2023 | Best Discounts, Freebies, and More
Most companies have not publicly announced plans for their 2023 Nurses Week deals, so we'll start by sharing some of the best year-round deals and our best guesses for 2023's sales based on prior years.
As we're hearing of more 2023 specials, we'll continuously update this page with all of the best offerings we can find. So be sure to bookmark this page.
Year-Round Nurse Discounts

There are plenty of year-round discounts to be found for nurses, healthcare workers, and first responders, so you don't have to wait for Nurses Week to save. In fact, we're seeing 400+ live nursing discounts from well-known brands you can take advantage of right now. To save you time, we've picked some of our favorites.
Many of the ongoing offers in the following list require verification through ID.me or SheerID. Both are fairly simple to use, and all it takes is a quick credential verification to ensure you're a nurse or other qualified professional. We've tried it out, and it only takes a few minutes, but it is worth it to get loads of savings!
Once verified, the discount is automatically applied to your cart for any nursing-specific offers online. For in-store purchases, you may be required to verify your credentials online before going to the store, or you may just need to bring your medical ID or healthcare employer badge along with you.
---
Related: Allnurses is giving away $1,200 in Nurses Month Prizes!
---
Retail Discounts For Nurses

Here are some of the best retail deals we've found, based on brand popularity and the percentage discount.
1. Reebok, 50% Off
Like Reebok, dislike Reebok, or just unfamiliar with Reebok, now might be the time to check them out with an incredible 50% off for nurses! This is the highest percent discount we're currently seeing in the retail category. 
Verification is required through ID.me 
Online-only offering
2. Asics, 40% Off
Asics, mostly known for their running footwear, is offering a solid discount of 40% off for nurses and other medical professionals.
Verification is required through SheerID
Online-only offering
3. Adidas, 30% Off
While not quite the 50% offer of Reebok, 30% is still a nice discount. Plus, everyone has their preferences, and Adidas is one of the most popular brands on the planet, so you wouldn't be alone if you jumped at this chance.
Verification through ID.me or in-store verification
Online and in-store have a 30% discount, factory outlets have a 20% discount
4. New Balance, 25% Off
New Balance nursing shoes are sometimes overlooked, but with a 25% discount, it may be worth checking out their selection of shoes and other apparel—for on-the-job and off.
Verification through ID.me
Online-only offering
5. Under Armour, 20% Off
Under Armour is giving 20% off its athletic wear. All healthcare workers are eligible for these discounts.
Verification through ID.me
Online-only offering
6. Lululemon, 15% Off
Lululemon has been offering discounts to first responders and military families for quite some time now. If you're in the market for some Lululemon, be sure to add the 15% savings to your checkout cart.
Verification through SheerID
Online and in-store offering, verification online required to receive discounts in the store
7. Nike, 10% Off
Nike has a first Responder and medical professional discount of 10%. The terms say the promotion isn't sitewide, but it's not quite clear what isn't covered. You'll also need a Nike account, so if you're going to clip this coupon, be sure to create an account.
Verification through SheerID
Online orders only through their website or mobile app
Food & Beverage Discounts for Nurses

This category is not quite as robust outside of Nurses Week, but there are still some decent deals. We'll walk you through a few that caught our attention.
1. Texas de Brazil, 15% Discount
Texas de Brazil, the national steakhouse chain with 50+ locations across the country and internationally, is offering healthcare heroes and teachers 15% off throughout the entire year. With the one exception being blackout dates around the most popular holidays.
Badge required
Maximum of 4 people per reservation
2. Hello Fresh, 55% Off the First Order, then 15%
For those unfamiliar with Hello Fresh, they are one of the most well-known meal prep delivery subscription programs. 
Verification through ID.me
55% Off the First Box + Free Shipping, and 15% OFF all other boxes over the next year
Requires auto-enrollment, but you can cancel anytime
3. KIND, 15% Off
KIND bars are great for on-the-go snacks for busy professionals. This special is offered to first responders, nurses, doctors, teachers, and students.
Verification through ID.me
Online-only through the KIND website
4. Outback Steakhouse, 10% Off
Outback's "Heroes Discount" celebrates medical staff, military, first responders, and more with 10% off the check year-round. All you need is a valid medical ID on you at the restaurant.
Photo ID at restaurant
Not available  for online ordering. You need to call to use this if you're placing a take-out order.
Alcohol and taxes are excluded
5. Thrive Market, Free Membership
Thrive Market is a large e-commerce-based healthy and natural food retailer. They deliver across the contiguous US, and the membership is normally $59.95 for the year.
Verification through ID.me
Online-only, Thrive Market has no brick-and-mortar stores.
Technology Discounts for Nurses

There are a couple of good deals in the electronics space, should you be in the market.
 Samsung, 30% Off 
First responders, including nurses, can get up to 30% off Samsung electronics, including phones, laptops, and more, through Samsung's First Responders Program.
Verification through ID.me
Online-only
Verizon, $20 per Phone Line
Verizon is offering $20/line for 4 lines in their unlimited plan, which is $10 off per line per month from the regular price of $30.
Verification through ID.me
Online-only
Note: the discount will not appear in your shopping cart, but you will see the discount in an email confirmation.
Travel Discounts for Nurses

Caesars Hotels, 30% Off
Caesars Hotels is offering 30% off for both American and Canadian nurses at some 30+ hotels across the country, including some of their flagship hotels in Las Vegas. Not all hotels owned by Caesars are included in this reduced rate, so be sure to check before booking if you're looking to take advantage.
Verification through ID.me
Online-only
Favorite Nursing Discounts

The following are some of our favorite Nurses Week discounts from prior years. We're hoping many of these discounts will happen again in 2023, so we're getting ahead of the curve in preparation for an incredible week and month!
Related: Guide to Nurses Week 2023
Food & Beverages

We ordered the following in terms of brands that have been more active in recent years.
1. Chipotle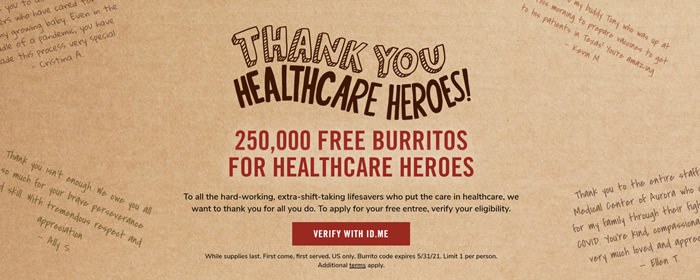 Arguably the fan favorite of the last couple of years, Chipotle has had some great giveaways since 2020.
2020: Chipotle gave away 200,000 free burritos
2021: they upped the ante to 250,000 free burritos with a touching healthcare hero appreciation wall
2022: they gave away free Chipotle for a year for 2,000 medical professionals through a healthcare hero nomination process on their social media channels
2023: Just announced, Chipotle Healthcare Heros Giveaway!
"Supporting the Healthcare Community with over $1 million in free Chipotle*. Apply today for a chance to win a Burrito Care Package for your team."
2. Marble Slab Creamery
Last year Marble Slab had a 3-day BOGO Small Ice Cream to thank nurses, teachers, and first responders. All you needed was a valid medical ID. The announcement was made on their facebook Page on May 3rd and lasted through May 6th. 
This year we're marking our calendars for the first couple days of May and checking their social page to see if we can get our hands on some free ice cream!
3. Starbucks
To say that nurses love their coffee would be an understatement. It may or may not be a coincidence, but on the same day as the nurses' appreciation gift from Starbucks last year, there was a "temporary supply shortage" at Starbucks.
Starbucks pulled quite a last-minute move in 2022, posting on their Twitter on National Nurses Day, about their "surprise treat" of a free coffee, for nurses only. In 2023, we're hoping for the same last-minute gesture, and we'll be monitoring their Twitter feed.
4. MOD Pizza
MOD Pizza is a pizza chain with a few hundred locations across the U.S. Last year, MOD had a buy-one-get-one-free pizza or salad for the first 30,000 nurses to sign up. 
The deal was announced on May 2, 2022, and ran through May 8, 2022, so we're keeping an eye on MOD Pizza's facebook Page the first couple days of May.
5. Cinnabon
Cinnabon is famous for its delicious cinnamon rolls and other sweet treats, and you'll often find Cinnabon in airports, malls, and other large-foot-traffic areas. Unfortunately, they've been dormant in their Nurses Week offerings since 2020.
For 2023, we're not expecting a giveaway, but we're watching Cinnabon's social media accounts closely, just in case.
6. Dunkin' Donuts
In 2020, Dunkin' Donuts had a great giveaway, but they've been out of the celebration the last couple of years. Their last official giveaway was a free Medium Hot or Iced Coffee and Donut to all nurses & healthcare professionals on May 6th, 2020.
For 2023, Dunkin Donuts just announced, Free Medium Hot or Iced Coffee for Nurses Day, May 6th!
7. Subway Sandwiches
Subway is joining in Nurses Week 2023, with a recently announced giveaway of 10,000 free subs from May 8 to May 12!
Learn more about Subway's promotion.
Giveaways

Bayada, $7,000 room makeover
Bayada, a healthcare company offering in-home services to children and adults, is sponsoring a  $7,000 room makeover giveaway for Nurses Week. The entry is already open.
Summary

That concludes the list for now; if you've stumbled across any good discounts not included here, please share them in the comments for the rest of the community to check out!
We'll be sure to keep updating this page, so please check back in the coming days and weeks.
Edited by Joe V

link