MSc Physiotherapy grad fulfills lifelong dream of being a hospital healthcare worker – Faculty of Health
»
Go to news main
MSc Physiotherapy grad fulfills lifelong dream of being a hospital healthcare worker
Posted by Dal Health Communications on
June 14, 2023
in
News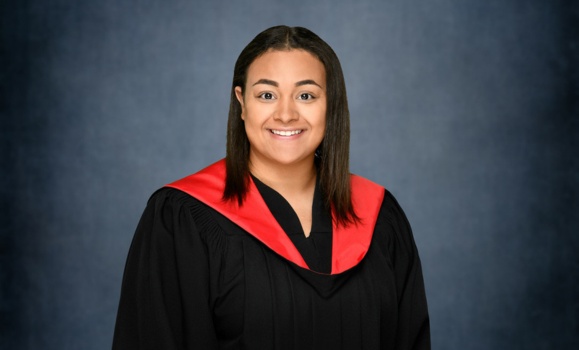 Previous to this degree, Katie Broussard did an undergrad in Kinesiology and volunteered with the SMU Huskies Athletic Training Program.
Congratulations to all of our Dal Health Class of 2023! To celebrate Spring Convocation, we chatted with students from across Dal Health. Katie Broussard graduated from the School of Physiotherapy with a MSc Physiotherapy.

Convation Q&A: Katie Broussard

Pronouns: she/her

Degree: MSc Physiotherapy
Where you're from: Antigonish, Nova Scotia
How significant is it for you to receive this degree?
Being able to obtain this degree was very significant to me, as it allowed me to fulfill my lifelong dream of working in the hospital system. For as long as I can remember, I've wanted to be a healthcare worker in the hospital, and this degree made this dream a reality. Additionally, receiving this degree is a reminder to myself of all of the hard work I put in along the way to make it to where I am right now, and I will say that it feels quite rewarding.
What were the highlights of your degree?
There are far too many highlights to getting my degree to list them all. Things that really stick out to me are the many social events put on by the class, the ability to go out on clinical placements across the Atlantic provinces, and the ability to have close relationships with the professors and instructors at the school.
What will you miss about your time at Dal?
The thing I miss the most about my time at Dal will be spending every day with classmates. Obtaining a hands-on masters level degree during the peak of a global pandemic allowed for us to have a very unique experience and share a special bond. Although the pandemic did make things a bit tougher at times, I am so grateful for my experience!
What was your journey to Dal and to this program?
Prior to being accepted into the physiotherapy program here at Dal, I completed my undergrad degree at Dal in Kinesiology. During my undergrad, I volunteered with the SMU Huskies Athletic Training Program which led me to decide that I wanted to pursue a career in physiotherapy.  
What topics/research/work did you become passionate about during 
During my time at Dal, I surprisingly became very interested in neuro-physiotherapy. I always thought I had the most interest in cardio-physiotherapy, however my second last placement was with a spinal cord injury population, and I absolutely fell in love with neuro. This area of work continued to peak my interest following that placement, and I work with a neuro population currently.
What's next for you?
I am currently working at the Nova Scotia Rehabilitation Center as an inpatient rehab physiotherapist. I am working with the Acquired Brain Injury Program, so a large portion of those I work with have had traumatic brain injuries or strokes. As of right now, I hope to stay in this position and further my education/training to improve the patient care that I am providing.
link