'Increasing militarisation' of DPR Korea fuelling rise in human rights violations
Briefing the UN Security Council, Volker Türk ran through a long list of rights abuses, saying that many "stem directly from, or support, the increasing militarisation of the DPRK."
His argument was reinforced by the UN independent human rights expert Elizabeth Salmón who told ambassadors that leaders of the DPRK – more commonly known as North Korea – have repeatedly demanded citizens "tighten their belts" to the point of starvation in some cases, "so that the available resources could be used to fund the nuclear and missile programmes."
Weapons over rights
High Commissioner Türk noted how the widespread use of forced labour, including in political prison camps, by children forced to collect harvests and the confiscation of overseas workers' wages, all support Pyongyang's imperative to "build weapons."
The Council met just over a month ago to discuss the "alarming and unsustainable" situation across the Peninsula, which is also impacting nearby countries such as Japan, following what was DPRK's fourth intercontinental ballistic missile launch of the year.
The UN rights chief began his briefing noting the dire state of human rights there, which underpin not only security, but humanitarian action and development.
Rarely has DPRK been more "painfully closed" to the outside world than it is today, triggered by border closures due to the COVID-19 pandemic.
Information gathered by his office, OHCHR, "including through interviews and from public information issued by the Government itself, indicates increasing repression of the rights to freedom of expression, privacy and movement; the persistence of widespread forced labour practices; and a worsening situation for economic and social rights due to the closure of markets and other forms of income generation."
Since the shutdown, "only a handful" have managed to leave the North, he said.
Help 'rebuffed'
Although DPRK has said it is open to international cooperation to help end a food supply and nutrition crisis, offers of humanitarian support "have been largely rebuffed" said Mr. Türk.
The UN Country Team remains barred amid the border closures, along with almost all other foreign nationals. He said the return of the Country Team and new partnership framework, "would be crucial to advancing coordinated work to address the suffering of the people".
He called for accountability for victims of rights abuses, both via the International Criminal Court and via "truth-telling, the recovery of remains and reparations programmes.
Thousands of North Koreans remain at risk of being repatriated involuntarily, he said, where they may face torture and arbitrary detention. He urged all States not to send citizens home, "and to provide them with the required protections and humanitarian support."
"Sustainable peace can only be built by advancing human rights, and its corollaries: reconciliation, inclusion and justice", he concluded.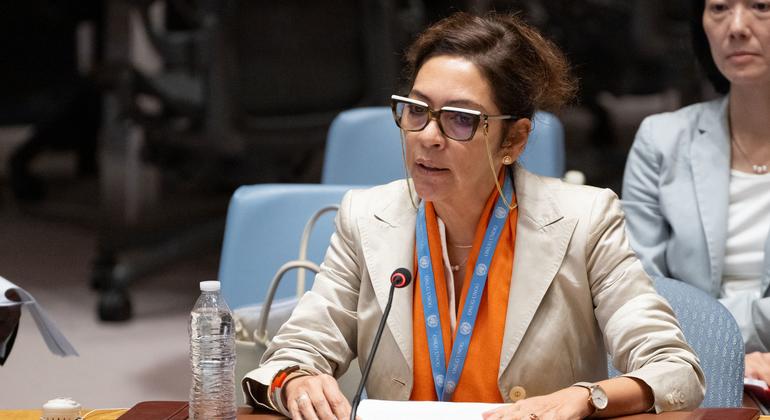 Crucial role of women for peace
The UN Special Rapporteur on human rights in DPRK, Ms. Salmón, highlighted the precarious situation of women and girls there, beginning with vulnerability to starvation, disease, and lack of available healthcare.
"Women are detained in inhuman conditions and are subjected to torture and ill-treatment, forced labour and gender-based violence by State officials", she told ambassadors in the Council.
She said they needed to consider peacemaking "beyond the absence of violence or fear of violence."
"The preparation for any possible peacemaking process needs to include women as decisionmakers and this process needs to start now."
She said "clear benchmarks" on human rights were an essential element of any negotiations.
"I call upon the Security Council to place the protection of human rights at the centre of a reinvigorated peace and security agenda."
link