Health system reform needs BC nurses at the table
Opinion: Thousands work across all areas of health care, including hospitals, primary-care clinics, schools, community agencies and in public health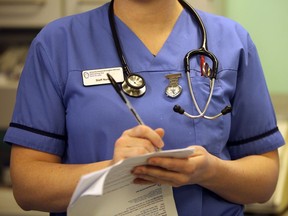 Article content
Our health-care system, once the pride of Canadians, is in crisis. A new poll from Leger notes nursing shortages and concerns around working conditions as key factors in the crisis.
Article content
When COVID-19 was declared a pandemic in 2020, health workers were celebrated nightly with banging pots and pans as a way for the public to show gratitude for the enormous effort and sacrifices health professionals were making to keep people well. Today, while those shows of appreciation are gone, health workers remain exhausted and are still dealing with the impacts of COVID-19.
Article content
British Columbians are desperate for better health services while also showing concern for health workers, notably nurses, as the Leger poll indicates. While the news about the health system often seems grim, we can do more than hope for change — we can act. For things to improve, nurses who have been at the forefront of the crisis must be part of the solution.
Article content
Nurses and nurse practitioners are critical to the operation of the entire health system. Simply put, without nurses there is no way to sustain health care. Nurses work across all areas of health care, including hospitals, primary-care clinics, schools, community agencies and in public health. Every one of B.C.'s 66,000 nurses and nurse practitioners are educated experts with essential skills and abilities, experts who are well-positioned to engage in the kind of collaborative leadership practices essential for health-care transformation.
As nurses, we are challenged by workload and the dual COVID-19 and opioid public health emergencies. Many nurses are operating under conditions of exhaustion and moral distress because they know what excellent care looks like but feel unable to provide it due to the overload.
Article content
Nursing-led solutions are integral to resolving the crisis we collectively face today and to ensuring the viability of publicly funded health care well into the future. Without actively being inclusive of nursing in decision making, the health system will put the lives of British Columbians at risk with continued shortages, closures and barriers to care.
The Association of Nurses and Nurse Practitioners of B.C. (NNPBC) represents and advocates for all four of B.C.'s nursing designations — licensed practical nurse, nurse practitioner, registered nurse, registered psychiatric nurse — in matters of health and public policy. We know that nurses are stronger when they are working together. Actions by the current NDP government to address shortages through increasing nursing education seats and supporting internationally educated nurses are most welcome, but we need more.
Article content
Shortages in the health system and nursing burnout didn't happen overnight, and neither did the crisis we're in. While the nursing shortage and problems with recruitment and retention were exacerbated by the COVID-19 pandemic, they are not new. Nursing has been raising the alarm on these issues for decades.
Health care is changing, and we must change with it. Nurses must be supported to maximize the impact of their education and expertise. The health care environment must improve if we are to keep nurses engaged in health care. We need more mental health and wellness support services, better peer mentorship programs and stress management to help ease and prevent further anxiety perpetuated by the health-care crisis. These improvements need voices of experience. That is why it is so critical to involve nurses in health-system leadership.
Article content
Nursing as a profession and a discipline can lead to health-care system transformation, never more important than now with its increasing demand and complexity. It is critical for government and policy-makers to recognize this. It's time we recruit nurses onto advisory panels, committees, boards and commissions to meaningfully inform health policy and governance. It's crucial to have nurses in senior leadership positions in policy portfolios that affect health, including housing, children and families, finance, education and advanced education, environment, labour, mental health and addictions and poverty reduction. Representation of nurses in these areas is sorely lacking. That needs to change if we are to solve the current crisis.
Article content
With so much at risk, to affect meaningful health system reform we need nurses at the table providing their expertise.
Sherri Kensall is board chair of the Association of Nurses and Nurse Practitioners of B.C.
'I can't do this anymore': How to fix Canada's nursing crisis

B.C. universities plan Indigenous nursing program for Indigenous nurses

B.C. has 4,265 unfilled nursing jobs — it's one reason why ERs are closing
---
More news, fewer ads: Our in-depth journalism is possible thanks to the support of our subscribers. For just $3.50 per week, you can get unlimited, ad-lite access to The Vancouver Sun, The Province, National Post and 13 other Canadian news sites. Support us by subscribing today: The Vancouver Sun | The Province.
link