Health CS Apologises for Dress Code After Receiving Backlash
Health Cabinet Secretary Susan Nakhumicha, on Tuesday, November 15, received backlash after she toured the Nairobi Kenya Medical Training College (KMTC) simulation lab without wearing any protective gear. 
Nakhumicha was accompanied by acting health director general, Patrick Amoth and other senior ministry officers. 
In the viral photo, the CS, Amoth and the officials were seen standing in a mock-up surgery room with medical practitioners simulating an operation. 
On Thursday, November 17, the CS clarified that the photo was not taken inside an actual medical theatre but a KMTC simulation lab built for training.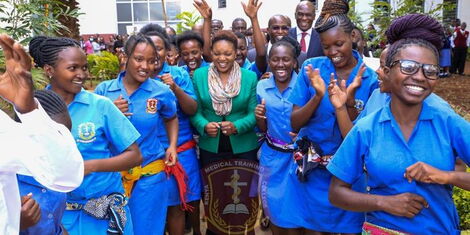 Health CS Susan Nakhumicha being entertained by KMTC students. 17.11.2022.
Twitter
KMTC
"This image from the KMTC simulation lab has elicited some debate. Let me say 3 things; the criticism my team and I have received is justified.
"Medical theatres are sterile environments, and although this is a simulation lab, we should have been dressed in proper attire," the CS explained. 
She further stated that the simulation lab uses dummies, not patients, as perceived. 
The CS noted that what appeared to be a patient on the surgical table presumably being operated on was actually a dummy.
"The simulation lab uses dummies, not patients," she added.
She, however, acknowledged their mistake and apologised on behalf of herself and the government team for accessing the theatre without the proper attire.
Nakhumicha hailed KMTC for its milestone in launching the Ksh.14 million simulation laboratory in 2021.
"I congratulate KMTC for making their simulation lab appear 'life-like.' Visitors to this lab should be properly dressed to complete the picture," she remarked.
The first-of-its-kind laboratory in a Public Medical Training Institution will help Kenya churn out critical care health workers needed to fight against emerging diseases like the COVID-19 pandemic.
Acting director general of Health, Patrick Amoth, such innovations in training will strengthen healthcare provision across the counties.
Health CS Nakhumicha being gifted a name tag by KMTC. 17.11.2022.
Twitter
KMTC
"This facility is coming in handy to train healthcare providers and students to increase critical care workforce for better health service delivery," he disclosed, adding that Kenya has 1,200 critical healthcare workers with 20 critical care intensivists and 200 physician anesthesiologists.
The laboratory includes a mock Intensive Care Unit (ICU) and operating theatre in which routine and complex clinical cases can be performed under the guidance of KMTC specialized trainers.
It is fitted with a Comprehensive Care Ventilator (CCV) as well as a Universal Anaesthesia Machine (UAM), several mannequins, an Intensive Care Unit (ICU) bed, patient monitors, oxygen cylinders, and accessories, machines to simulate different types of breathing, airway kits, and other devices, accessories, and consumables that help simulate a real clinical environment.
fight

link