COVID update Nov. 17-23: Here's what you need to know this week
Here's your weekly update with everything you need to know on the COVID situation in B.C. and around the world.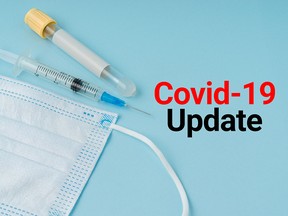 Article content
Here's your update with everything you need to know about the COVID situation in B.C. and around the world for the week of Nov. 17-23. This page will be updated with the latest COVID news and related research developments daily throughout the week, so be sure to check back often.
Article content
You can also get the latest COVID-19 news delivered to your inbox weeknights at 7 p.m. by subscribing to our newsletter here.
Article content
---
Here are the latest weekly B.C. figures given on Nov. 17:
• Hospitalized cases: 328 (up 38)
• Intensive care: 26 (same)
• New cases: 477 over seven days ending Nov. 12 (up 80)
• Total number of confirmed cases: 388,984
• Total deaths over seven days ending Nov. 5: 30 (total 4,607)
Read the full report here | Next update: Today
---
LATEST NEWS
Updated COVID vaccines offer better protection than original: U.S. study
Updated COVID-19 boosters offer increased protection against new variants in people who have previously received up to four doses of the older vaccine, a real-world study in the United States showed.
Article content
The study of over 360,000 people, published in Morbidity and Mortality Weekly Report, offers the first evidence that the new vaccines by Pfizer-BioNTech and Moderna provide better protection compared to the original shots.
Since their introduction in September, the vaccine boosters, which contain both original and Omicron BA.4/5 coronavirus strain, provided greater benefit to younger adults aged 18-49 years that those in the older age group.
When given eight months or more apart, relative vaccine effectiveness of the new boosters compared with the original vaccine shots was 56 per cent among people aged 18–49 years, 48 per cent among those 50–64 years, and 43 per cent among persons aged 65 years and older, the study showed.
Article content
The variation in effectiveness was lower, in the range of 28-31 per cent, when the boosters were given 2-3 months apart.
The authors of the study, however, warned that participants may not have recalled their vaccination status, previous infection history, and underlying medical conditions, and that low acceptance of bivalent boosters could have biased the results.
So far, around 35 million updated boosters have been administered across the U.S., representing around 10 per cent of the total population, as per government data.
The authors warned that the study may not be generalizable to future variants, as the dominant variants keep changing.
In just the last two months, the BQ.1 and BQ.1.1 subvariants have become the dominant strains of coronavirus in the United States, taking over from the BA.5 subvariant of Omicron, based on which the vaccines were updated.
Article content
— Reuters
Dr. Fauci pleads with Americans to get COVID shot in final White House briefing
Dr. Anthony Fauci, the U.S. health official celebrated and vilified as the face of the country's COVID-19 pandemic response, used his final White House briefing on Tuesday to denounce division and promote vaccines.
Fauci, who plans to retire soon as President Joe Biden's top medical adviser and top U.S. infectious disease official, has dealt with the thorny questions around health crises from HIV/AIDS to avian flu and Ebola.
But it was his handling of COVID – and his blunt assessments from the White House podium that Americans needed to change their behavior in light of the pandemic – that made him a hero to public health advocates while serving under President Donald Trump, a villain to some on the right and an unusual celebrity among bureaucratic officials used to toiling in obscurity. Fauci has regularly been subjected to death threats for his efforts.
Article content
True to form, Fauci used the final press briefing to strongly encourage Americans to get COVID vaccines and booster shots, and touted the effectiveness of masks, all of which became partisan totems in the United States.
The United States leads the world in recorded COVID-19 deaths with more than one million.
After 13 billion doses of COVID-19 vaccines given worldwide, Fauci said, there is "clearly an extensive body of information" that indicates that they are safe.
"When I see people in this country because of the divisiveness in our country … not getting vaccinated for reasons that have nothing to do with public health, but have to do because of divisiveness and ideological differences, as a physician, it pains me," Fauci said.
Article content
"I don't want to see anybody hospitalized, and I don't want to see anybody die from COVID. Whether you're a far-right Republican or a far-left Democrat, doesn't make any difference to me."
— Reuters
B.C. CDC drops self-isolation requirements for COVID-19
British Columbians who have COVID-19 are no longer required to self-isolate.
That's according to the most recent guidance from the B.C. Centre for Disease Control (CDC), posted to their website with little fanfare on Nov. 17.
"Starting Nov. 17, 2022, people who have COVID-19 are no longer required to self-isolate," new language on the website states.
Before the change, the website had stated that fully vaccinated individuals "need to self-isolate at home for five days and until your symptoms improve and you no longer have a fever." Unvaccinated adults were required to self-isolate for 10 days.
Article content
The new guidance doesn't differentiate between vaccinated and unvaccinated people.
Read the full story here.
— Nathan Griffiths
Beijing's biggest district urges residents to stay home as COVID cases rise
Beijing's most populous district urged residents to stay at home on Monday, extending a request from the weekend as the city's COVID-19 case numbers rose, with many businesses shut and schools in the area shifting classes online.
Nationally, new case numbers held steady on Sunday near April peaks as China battles outbreaks in cities across the country, from Zhengzhou in central Henan province to Guangzhou in the south and Chongqing in the southwest.
Still, China is trying to ease the impact of containment measures that drag on the economy and frustrate residents fed up with lockdowns, quarantine and other disruptions, even as it reiterates its commitment to its zero-COVID approach.
Article content
On Sunday, Beijing city officials urged residents of the sprawling Chaoyang district – home to nearly 3.5 million people as well as embassies and office towers – to remain at home on Monday.
"The number of cases discovered outside quarantine is increasing rapidly at present, and there are hidden transmission risks from multiple places," Liu Xiaofeng, deputy director of the Beijing Center for Disease Prevention and Control, told a media briefing.
"The pressure on Beijing has further increased," he said.
— Reuters
The Toronto Transit Commission will be ending its mandatory COVID-19 vaccination requirement for workers and offering to reinstate employees who were terminated as a result of the policy without back pay.
Article content
The transit agency said this week its vaccine mandate will be lifted on Nov. 27, though it is continuing to encourage employees to stay up-to-date with COVID-19 vaccinations.
The TTC said the mandate, introduced on Sept. 7, 2021, came after consulting with public health officials and based on "the best available science at the time."
"The policy ensured employee illnesses were kept to a bare minimum and allowed the TTC to continue delivering its essential service throughout the pandemic," the agency said in a news release.
Employees who were terminated as a result of the policy will be invited to return to work and will maintain their seniority. However, they will not be eligible for back pay — a move that could prompt lawsuits.
Article content
—The Canadian Press
Federal government encourages people to use masks while travelling
Canada's transport minister says the federal government strongly encourages people to wear masks on planes and trains as regions across the country report increasing pressure on the health-care system, but he stopped short of making it a requirement.
Omar Alghabra said the advice follows a briefing Thursday with Dr. Theresa Tam, Canada's chief public health officer.
"I continue to wear my mask when I'm travelling on a plane," Alghabra told a news conference.
"Given the pressure that our hospitals are dealing with and our health-care system, I think it's the kind thing to do to protect others around us."
His comment comes as many provincial governments have been weighing in recent days whether masking should again become mandatory indoors.
Article content
Provinces removed most of their COVID-19 restrictions, including mask mandates, earlier this year. The federal government removed all COVID-19 entry restrictions at the start of October, including mask mandates for anyone entering Canada.
Alghabra said Ottawa will continue to follow advice from doctors and data.
The triple threat of COVID-19 variants, influenza and a surge of the respiratory syncytial virus, or RSV, is posing a challenge for hospitals in parts of the country.
— The Canadian Press
Are RSV and the flu really making kids sicker? What emergency room doctors are seeing
The message was alarming: seven little children had to be resuscitated over the span of 48 hours in the emergency department of Ottawa's children's hospital. Three on Monday. "Sunday there were 4," tweeted Children's Hospital of Eastern Ontario President Alex Munter.
Article content
"Help stop the spread of preventable infectious disease," Munter posted before pleading for residents to mask up and heed other public health advice.
When asked about the nature of the resuscitation cases, a CHEO spokesperson said Thursday that some, but not all, of the seven children mentioned had a respiratory viral illness.
Still, the tweet echoed some anecdotal reports that children caught in the respiratory viral storm seem sicker than years past. "It's the worst I've seen in my 14 years on staff," tweeted Dr. Tracey Bruce, a pediatric anesthesiologist at McMaster Children's Hospital. "Multiple viral infections, often in the same child," and secondary bacterial infections "with catastrophic implications and incredible morbidity," Bruce said. "Please wear a damn mask!"
Article content
The viral surge has renewed speculation that COVID may be weakening children's immune systems, leaving them less able to cope with viral infections as efficiently as before.
In addition to mild and moderate infections, hospitals are seeing high numbers of children with severe RSV and flu, as well as complications like meningitis, pneumonia and empyema, or pockets of pus around the lungs. "We're seeing more serious illness in children with these illnesses than we would on average in the past," said Dr. Michael Howlett, president of the Canadian Association of Emergency Physicians.
These secondary infections aren't new. There are just more of them. Is it just a reflection of the overall number of kids being infected, or is there something different about their immune responses? "That's what we're trying to flesh out," said Dr. Upton Allen, chief of the division of infectious diseases at Toronto's SickKids hospital.
Article content
Read the full story here.
— Postmedia News
Shoppers Drug Mart parent company says cough and cold sales hit all-time high
Canada's biggest drugstore chain says sales of cough and cold products hit an all-time high this fall.
Loblaw Cos. Ltd. chairman and president Galen G. Weston says the combination of COVID-19, RSV and the flu led to a record number of cough and cold medication sales at the company's pharmacies, which include Shoppers Drug Mart and Pharmaprix.
He says the manufacturers of multinational and generic brands have had trouble keeping up with the spike in demand.
Weston says the "unusual pressure" on the industry has led to shortages, leaving retailers with limited stock for some medications. He says manufacturers are working hard to get more product available, but it's difficult to say when the shortages will end.
Article content
Read the full story here.
— The Canadian Press
Officers couldn't stop 'Freedom Convoy' protesters entering Canada: Ex-CBSA head
The former head of the Canada Border Services Agency was surprised to learn last winter that officers did not have the authority to stop would-be protesters from entering the country as demonstrations against COVID-19 restrictions were gaining momentum across Canada, he testified Wednesday.
CBSA started to see the first slow-roll protest past the border at the Emerson crossing in Manitoba on Jan. 17, John Ossowski told the inquiry investigating the federal government's use of the Emergencies Act, which was invoked in February after blockades of vehicles stopped traffic at border crossings and gridlocked downtown Ottawa.
Article content
Based on the intelligence gathered at the time, Ossowski said, the CBSA started putting contingency plans together for a potential blockade.
"One of the things that we started to do was — and very unusually — apply cameras facing back into Canada so that we could be aware of what was coming from behind," Ossowski testified Wednesday.
The border agency has lots of cameras facing the American side of the border, but Canada-facing cameras were installed so agents could see what may be "coming at them" domestically, he explained.
Read the full story here.
— The Canadian Press
13 per cent increase hospitalizations of people with COVID-19
The BC CDC is reporting a 13 per cent increase in people who are in hospital and have COVID-19 over the past week to 328. The number of people in intensive care who have COVID-19 however is steady at 26. There were 30 people who died on the past week with COVID-19.
Article content
'Heavy hand' of mask mandate not needed in B.C.: Dr. Bonnie Henry
B.C.'s provincial health officer has rejected calls for a mandatory mask order even as hospitals and clinics are seeing a resurgence of respiratory illnesses in children.
Dr. Bonnie Henry said she doesn't believe the "heavy hand" of a mask mandate is needed. She left it up to people to use masks at their own discretion "where it makes sense."
"We all need to learn about that tool and where it is best used," she said. "We are trying to provide some guidance on that. This is going to happen every year. We are going to have a respiratory season next year."
B.C. has had a jump in health care visits due to respiratory illnesses, largely due to influenza and RSV, respiratory syncytial virus, in children, many of whom skipped a year or two of typical childhood respiratory viruses due to COVID-related measures.
Article content
Influenza levels, which had been near zero during the pandemic, rose dramatically starting in October. RSV cases also showed a significant but less dramatic increase, while COVID cases have levelled off.
Read the full story here.
— Cheryl Chan
Across Canada, children are getting sick.
And it's not just COVID. The Public Health Agency of Canada's data show that influenza and respiratory syncytial virus (RSV) are circulating in the population at higher than expected rates this fall.
It's led to long wait times at emergency rooms. The Children's Hospital of Eastern Ontario has opened a second pediatric ICU. SickKids hospital has cancelled non-urgent surgeries. Thousands of kids are missing school — 20,000 in Edmonton alone, about 10 per cent of all elementary and high school students.
Article content
In some provinces, it has politicians and public-health officials grappling with a question that many hoped wouldn't come up again: Do mask mandates need to come back?
More than two years of pandemic health measures not only prevented the spread of COVID-19, but the flu and other respiratory viruses as well. Now that children have returned to school and day care without masks, there is an unusually large cohort of children getting these infections, all at the same time, after two years of protection from viruses, said Colin Furness, an epidemiologist at the University of Toronto.
In response, doctors and experts are calling for mask mandates to reduce the spread. But this raises the question: If more kids are getting sick now because public-health measures delayed their exposure to these viruses, would re-instituting mask mandates just ensure the problem is sustained over a longer period of time?
Article content
— The National Post
The Edmonton Public School Board is asking Alberta's chief medical officer of health for thresholds to determine when mandatory isolation and masking should be put in place as respiratory illnesses in classrooms reach record numbers.
The motion, which passed unanimously during a special board meeting Tuesday morning, also requests that when schools are on outbreak status, the chief medical officer of health, alongside the Alberta government, reinstate safety protocols like masking to help cut the spread of illness.
The request for clarity comes after the school district has seen rising rates of student absences due to illness, exceeding 13 per cent on Nov. 7.
Article content
More than 150 schools have met or exceeded the 10 per cent threshold for contacting Alberta Health Services over an outbreak as of Nov. 7. The board noted that a recent Court of King's Bench of Alberta decision also found the Alberta government acted "unreasonably" in lifting a COVID-19 mask mandate for schools last winter.
— Postmedia News
In 'zero-COVID' China, a single case locks down Peking University
Chinese authorities locked down a major university in Beijing on Wednesday after finding one COVID-19 case as they stick to a "zero-COVID" approach despite growing public discontent.
Peking University students and faculty were not allowed to leave the grounds unless necessary and classes on the main campus — where the case was found — were moved online through Friday, a university notice said. Still, some people could be seen entering and leaving the main campus Wednesday in the Chinese capital's Haidian district.
Article content
Beijing reported more than 350 new cases in the latest 24-hour period, a small fraction of its 21-million population but enough to trigger localized lockdowns and quarantines under China's "zero-COVID" strategy. Nationwide, China reported about 20,000 cases, up from about 8,000 a week ago.
Authorities are steering away from citywide lockdowns to try to minimize the impact on freedom of movement and a sagging economy. They want to avoid a repeat of the Shanghai lockdown earlier this year that paralyzed shipping and prompted neighborhood protests. Revised national guidelines issued last week called on local governments to follow a targeted and scientific approach that avoids unnecessary measures.
Peking University has more than 40,000 students on multiple campuses, most in Beijing. It was unclear how many were affected by the lockdown.
Article content
— Associated Press
RCMP caught off guard by Ottawa mayor's request for officers during 'Freedom Convoy'
A few hours after Prime Minister Justin Trudeau made the history-making decision to invoke the Emergencies Act, his national security adviser reached out to the RCMP for a threat assessment of the protests that had blockaded downtown Ottawa and several border crossings.
Jody Thomas did not go through official channels when she asked for that assessment, and prefaced it with her own description of the protest. She told the RCMP in a Feb. 14 email the protests were a threat to democracy and the rule of law.
"This is about a national threat to national interests and institutions. By people who do not care about or understand democracy. Who are preparing to be violent. Who are motivated by anti-government sentiment," Thomas wrote in the email released Tuesday through a public inquiry.
Article content
Trudeau invoked the Emergencies Act on Feb. 14 for the first time since the legislation became law in 1988. At the time, he told Canadians extraordinary powers had to be granted to police and the government to quell countrywide protests against COVID-19 public health restrictions.
The Public Order Emergency Commission is tasked with determining whether the government was justified in triggering the legislation. It is holding public hearings in Ottawa until Nov. 25.
Read the full story here.
— The Canadian Press
Alberta's chief medical officer of health Dr. Deena Hinshaw has been replaced with Dr. Mark Joffe, an Alberta Health Services vice-president.
Article content
In a late afternoon Monday news release, the government announced Joffe had been appointed interim chief medical officer of health and will serve until Health Minister Jason Copping rescinds the appointment.
Joffe has worked with the former Capital Health and now Alberta Health Services for more than 25 years. He will continue in his role as the vice-president and medical director for Cancer Care Alberta, Clinical Support Services and Provincial Clinical Excellence, but with no additional pay for serving as chief medical officer of health, the release said.
It comes almost five weeks after Premier Danielle Smith was sworn in, and said at her first news conference in the office Hinshaw would be replaced.
"I appreciate the work that Dr. Deena Hinshaw has done but I think we're in a new phase where we are now talking about treating coronavirus as endemic, as we do influenza. And so I will be developing a new team of public health advisers," Smith said at the time.
— Postmedia News
Canada's border agency questioned over delays providing ArriveCan data to parliamentary committee
The president of Canada's border protection agency found herself in the hot seat on Monday, questioned over delays in providing information requested as part of the committee's work investigating the contentious ArriveCan app.
Testifying before the Commons government operations and estimates committee, Canada Border Services Agency president Erin O'Gorman was given the third degree by MP Michael Barrett, asking why the agency had yet to provide information on contractors, expenditures and cost breakdowns related to the app's development — as ordered by the committee nearly a month ago.
"We did provide a list of invoices — we are looking at about 500 invoices, so we're in the process of having those translated," she said, adding that the CBSA has no information on subcontractors that may have done work on the app, just primary contractors that dealt directly with the agency.
O'Gorman also blamed a "coding error" for the CBSA's prior response in an order paper question that erroneously named tech firm ThinkOn Inc. as one of the top companies involved in developing ArriveCan.
She told the committee the company named should have been Microsoft, who received a nearly $1.2-million contract fo its work on ArriveCan.
Last month, the committee heard ArriveCan initially cost the federal government $80,000 when it was first developed two years ago, but after nearly 70 updates, fixes and refinements ballooned to an expected cost at nearly $54 million by next March.
Earlier this month, opposition parties told the National Post they plan to back a Conservative party call requesting a probe by the auditor general into the controversial app's even more controversial price tag.
Read the full story here.
— Postmedia News
Masking advisable in B.C. but not required yet, says Dr. Bonnie Henry
British Columbians should mask up if they have any respiratory illness symptoms and can't avoid close contact with others indoors, says provincial health officer Dr. Bonnie Henry.
"We are not looking at reintroducing mask mandates at this time," said Henry. But she said that could change if necessary as the pandemic evolves.
"We are seeing an increase in respiratory illnesses across the province," Henry said Monday in an email. She said that is to be expected because viruses increase in the fall and winter and more people are returning to indoor activities without COVID restrictions.
Henry said those who are ill should remain at home until the fever disappears (without medication) and they are well enough to engage in usual activities. And she suggested to avoid non-essential close contact with those 70 and older, LTC residents and immunocompromised individuals, as well as to stay away from LTCs and hospitals until you feel better.
Read the full story here.
— Susan Lazaruk
More kids' pain and fever meds being imported to restock store shelves: Health Canada
Health Canada says it's importing a foreign supply of children's pain and fever medications that will be available on retail shelves in the coming weeks.
The agency had previously announced it was importing children's acetaminophen and ibuprofen to be distributed to hospitals.
Now it says it has also secured supply of acetaminophen to be distributed to pharmacies and drugstores.
The government did not immediately say how much supply is coming or where it's being imported from.
But it says all imports will meet Canada's manufacturing standards and have instructions in both English and French.
The agency asks consumers to only purchase what they need to ensure other parents and caregivers have access to the medicine.
Read the full story here.
— The Canadian Press
Ontario's top doctor 'strongly recommends' public to mask up indoors but no mandate
Ontario's chief medical officer of health, Dr. Kieran Moore, is "strongly recommending" Ontarians mask in all indoor public settings, including schools and child-care centres, but is stopping short of mandating it.
Moore made the recommendation today as part of an update on the pediatric respiratory virus season, which has seen kids' hospitals overwhelmed in recent weeks by a massive influx of very sick patients.
Some major children's hospitals have had to cancel non-urgent surgeries in order to redeploy staff to the emergency department and intensive care units that are operating over capacity.
Moore says adults can transmit respiratory viruses to kids, and young children under the age of five are the most susceptible.
In order to manage the crush on the health system, the government says experts have been meeting daily and emergency departments are being instructed to plan for an "extreme surge."
The Children's Hospital of Eastern Ontario has opened a second pediatric ICU, SickKids hospital is cancelling non-urgent surgeries, and children 14 and older needing critical care are being sent to adult ICUs.
Two government sources have said the province will not bring back mask mandates that were prevalent throughout the COVID-19 pandemic.
— The Canadian Press
---
What are B.C.'s current public health measures?
MASKS: Masks are not required in public indoor settings though individual businesses and event organizers can choose to require them.
Masks are also encouraged but not required on board public transit and B.C. Ferries, though they are still required in federally regulated travel spaces such as trains, airports and airplanes, and in health care settings.
GATHERINGS AND EVENTS: There are currently no restrictions on gatherings and events such as personal gatherings, weddings, funerals, worship services, exercise and fitness activities, and swimming pools.
There are also no restrictions or capacity limits on restaurants, pubs, bars and nightclubs; and no restrictions on sport activities.
CARE HOMES: There are no capacity restrictions on visitors to long-term care and seniors' assisted living facilities, however, visitors must show proof of vaccination before visiting. Exemptions are available for children under the age of 12, those with a medical exemption, and visitors attending for compassionate visits related to end-of-life.
Visitors to seniors' homes are also required to take a rapid antigen test before visiting the facility or be tested on arrival. Exemptions to testing are available for those attending for compassionate visits or end-of-life care.
---
How do I get vaccinated in B.C.?
Everyone who is living in B.C. and eligible for a vaccine can receive one by following these steps:
• Get registered online at gov.bc.ca/getvaccinated to book an appointment in your community.
• Or, if you prefer, you can get registered and then visit a drop-in clinic in your health authority.
• The system will alert you when it is time to go for your second dose.
• The same system will also alert you when it is time for your booster dose.
---
Where can I get a COVID-19 test?
TESTING CENTRES: B.C.'s COVID-19 test collection centres are currently only testing those with symptoms who are hospitalized, pregnant, considered high risk or live/work with those who are high risk. You can find a testing centre using the B.C. Centre for Disease Control's testing centre map.
If you have mild symptoms, you do not need a test and should stay home until your fever is gone. Those without symptoms do not need a test.
TAKE-HOME RAPID ANTIGEN TESTS: Eligible British Columbians over the age of 18 with a personal health number can visit a pharmacy to receive a free take-home test kit containing five COVID-19 rapid antigen tests.
---
More news, fewer ads: Our in-depth journalism is possible thanks to the support of our subscribers. For just $3.50 per week, you can get unlimited, ad-lite access to The Vancouver Sun, The Province, National Post and 13 other Canadian news sites. Support us by subscribing today: The Vancouver Sun | The Province.
'Heavy hand' of mask mandate not needed in B.C.: Dr. Bonnie Henry

Crown stays COVID charge filed against B.C. pastor who opened church during pandemic
link