COVID update Nov. 10-16: Here's what you need to know this week
Here's your weekly update with everything you need to know on the COVID situation in B.C. and around the world.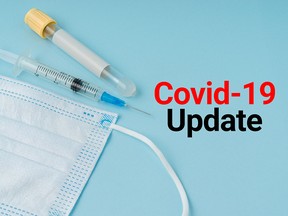 Article content
Here's your update with everything you need to know about the COVID situation in B.C. and around the world for the week of Nov. 10-16. This page will be updated with the latest COVID news and related research developments daily throughout the week, so be sure to check back often.
Article content
You can also get the latest COVID-19 news delivered to your inbox weeknights at 7 p.m. by subscribing to our newsletter here.
Article content
---
Here are the latest weekly B.C. figures given on Nov. 3:
• Hospitalized cases: 290 (up four)
• Intensive care: 26 (down one)
• New cases: 407 over seven days ending Nov. 5 (down 79)
• Total number of confirmed cases: 388,497
• Total deaths over seven days ending Nov. 5: 20 (total 4,552)
Read the full report here | Next update: Nov. 17
---
LATEST NEWS
Hospitalizations steady at 290, while total case counts decline
The number of people in B.C. hospitals with COVID-19 has remained stable as infection counts continued to decline.
On Thursday, the B.C. Centre for Disease Control reported 290 people are in hospital with the virus, a figure that has remained steady over the last three weeks. Out of the 290 in hospital, 26 are in intensive care.
Article content
The last time hospitalization figures were this low was in June, when numbers hovered around 275.
The BCCDC reported 407 new infections over a seven-day period from Oct. 30 to Nov. 5, down 79 from the previous reporting week. The figure is likely an undercount due to the lack of PCR testing and exclusion of more commonly-used rapid tests.
 — Cheryl Chan
COVID mask mandates may be coming back. Is there any point? Experts are divided
Masks remind people of what they've been through, "and would sooner not experience again," says clinical psychologist Steven Taylor. Which is one reason why governments and public health leaders may be understandably reluctant, he and others said, to bring mask mandates back, despite growing calls to do just that.
Article content
Toronto's public health board has requested the city's top doctor "urgently explore" re-issuing mask mandates, beginning with schools.
Ottawa's children's hospital, overrun by such an extraordinarily high surge in seasonal infections it's had to open a second ICU, is pleading for residents to mask-up for the sake of their kids.
Dr. Theresa Tam, Canada's chief public health officer said Thursday that masks, as an added layer of protection, "might actually make a difference" in dampening the respiratory viral surge. At the University of Waterloo, masks are now required for lectures, seminars, tests, exams, and all other forms of "indoor academic instruction."
The bulk of the evidence suggests properly fitted masks help reduce the transmission of COVID-19, according to a large review of the available mask literature published last year.
Article content
But masks have been a cultural flash point throughout the pandemic. Add in an approaching third winter of COVID and the "learning to live with it" messaging and it's not clear just how much public buy-in exists for a fresh round of mandatory indoor masking.
Although the most recent surge of COVID appears to have plateaued, influenza cases are climbing, steeply, with more than half of reported cases involving children and teens, hospitals are being inundated with unseasonably high number of children with RSV and the emerging Omicron variants BQ.1.1 and BF.7 are on the rise, Tam reported. Still, she refrained from recommending a return to indoor mask mandates or other restrictions, noting those decisions rest with the provinces.
Article content
Read the full story here.
— National Post
COVID hospitalizations rising in kids under 6 months, CDC director says
COVID-19 hospitalizations are rising among babies under 6 months old, and the US Centers for Disease Control and Prevention is urging mothers to get vaccinated to reduce the risk of infection in those not yet eligible for shots, Director Rochelle Walensky said.
"We're seeing more and more of those younger babies getting hospitalized," Walensky said in an exclusive interview at CDC's headquarters in Atlanta. "That's really where we're trying to do some work now because we think we can prevent those by getting mom vaccinated."
Walensky, who just recovered from a COVID-19 infection and subsequent post-treatment rebound, spoke in advance of the release of an agency report that examines an increase in the rate of hospitalizations among infants. The infectious disease expert said that in recent months, children younger than 6 months old have faced the second-highest rate of hospitalization across all age groups, trailing only behind those ages 65 and up.
Article content
Hospitalizations increased eleven-fold for those infants from December 2021 to August 2022, during the time when omicron and its subvariants were dominant, according to a study published Thursday in CDC's Morbidity and Mortality Weekly Report. Hospitalization rates peaked in late July, when the BA.5 strain accounted for the majority of US infections, the study said.
Average weekly hospitalization rates for babies younger than 6 months were similar to adults between the ages of 65 and 74, according to the study. But while the elderly and people with weak immune systems remain at highest risk of COVID hospitalization, they can get vaccinated, unlike the very youngest patients.
— Bloomberg
Elderly pair sentenced over COVID-19 racism and mischief at Richmond café
Article content
Two seniors have received a criminal record after admitting they poured coffee on the floor of a Richmond café during the peak of COVID-19, then racially abused a female worker before leaving the scene.
According to a recent Provincial Court of B.C. ruling, 74-year-old Eric Bethune and 76-year-old Astrid Maria Secreve entered Rocanini Coffee Roasters on March 29, 2021 and ordered two extra-hot mochas and one lemon square. At that time a provincial health order was in place limiting the number of people who could be seated inside any restaurant or café.
The ruling states that there was no available seating space inside the coffee shop and that Bethune and Secreve were offered seats outside on the patio. Instead, Bethune picked up a table from the patio and brought it inside, unstacked two chairs and the pair sat at the table (that was close to the washroom entrance) and began drinking and eating.
Article content
The pair were approached by barista Way Chan and then store manager Yinying Tan, who asked them to sit outside. The pair refused, and when Tan offered them another inside table that had become available the pair again refused to move.
— Staff Reporter
WHO reports 90% drop in world COVID-19 deaths since February
The World Health Organization chief on Wednesday said a nearly 90% drop in recent COVID-19 deaths globally compared to nine months ago provides "cause for optimism," but still urged vigilance against the pandemic as variants continue to crop up.
Director-General Tedros Adhanom Ghebreyesus said that last week just over 9,400 deaths linked to the coronavirus were reported to the WHO. In February of this year, he said, weekly deaths had topped 75,000 globally.
Article content
"We have come a long way, and this is definitely cause for optimism. But we continue to call on all governments, communities and individuals to remain vigilant," he said at a virtual news conference from the WHO's Geneva headquarters.
"Almost 10,000 deaths a week is 10,000 too many for a disease that can be prevented and treated."
—The Associated Press
Ontario docs advise masks, vaccine catch-up ahead of anticipated tough viral season
Ontarians are being advised to keep up with vaccinations and wear masks indoors as doctors warn of a worsening respiratory illness season that's hitting children — and the pediatric health system — particularly hard.
Physicians at a news conference hosted by the Ontario Medical Association said Wednesday that influenza arrived early in the province and more than half of Canadian cases of the illness so far have been in children and teenagers.
Article content
The early arrival of the flu, a resurgence in respiratory syncytial virus, or RSV, and the continued spread of COVID-19 has made for a "triple threat" respiratory season that's sending many children to the hospital and the situation is expected to get worse in the coming months, doctors said.
"It's a little bit of a perfect storm," said Dr. Rod Lim, emergency medical director of the ER at the Children's Hospital in London, Ont.
The pediatric health-care system is under significant strain due to staffing challenges, medication supply chain issues and early circulation of viruses that typically peak in January, February and March, Lim said.
Read the full story here.
— The Canadian Press
Three quarters of U.K. long COVID sufferers working less: survey
Article content
More than three quarters of British people who have suffered persistent ill health following a COVID-19 infection have had to cut back or change the work they do, according to a survey on the impact of long COVID published on Wednesday.
The survey of 1,002 people, conducted by market research company Censuswide in October for recruitment website Indeed, adds to signs that long COVID continues to be a factor behind widespread labor shortages in Britain.
Some 98 per cent of long COVID sufferers said the condition had limited their ability to work, 78 per cent had needed to cut back or change their work and 19% had ceased work altogether.
"Our research shows that the health emergency has become an employment crisis," said Danny Stacy, a senior adviser at Indeed.
Article content
— Reuters
Researchers look for ways to detect COVID-19 ahead of busy winter travel season
As the busy winter travel season approaches, researchers are looking to use artificial intelligence at Canada's airports to help curb the spread of COVID-19.
The Innovation Economy Council held a panel Wednesday to discuss ways airports can better detect and control the spread of viruses.
Members of the panel spoke about the use of wastewater surveillance to rapidly test for viruses, including the BQ 1.1 variant of COVID-19 and monkeypox.
Wastewater detection has become a key way to track the spread of COVID-19 over the course of the pandemic and has been underway as part of a trial program by the Greater Toronto Airports Authority (GTAA) since January.
Article content
— The Canadian Press
U.K. approves Pfizer-BioNTech's COVID booster targeting Omicron BA.4/5
Britain's health regulator on Wednesday approved the country's first two-pronged COVID-19 booster targeting the Omicron BA.4 and BA.5 sub-variants and the original coronavirus strain.
The Medicines and Healthcare products Regulatory Agency (MHRA) said the vaccine from Pfizer and partner BioNTech was approved for use as a booster in people 12 years and older after it was found to meet safety, quality and effectiveness standards.
Britain had already approved so-called bivalent vaccines targeting the Omicron BA.1 sub-variant from Pfizer-BioNTech and rival Moderna, but now has added a first against BA.4/5 in its arsenal with the latest authorization.
Article content
The regulator on Wednesday also approved Novavax's COVID-19 shot as a booster for adults.
— Reuters
University of Waterloo brings back masking in indoor instructional areas
The University of Waterloo is reinstating a mask requirement for indoor activities that are part of academic instruction.
The university says masks will be required starting Wednesday in lectures, seminars, labs, tests, exams and all other forms of academic instruction that happen indoors.
University leaders say in a written statement that the decision is being made now due to data trends pointing to increased levels of COVID-19 and other airborne diseases in circulation.
The statement says the university also wants to reduce the amount of disruption those trends could cause to the fall exam period.
Article content
— The Canadian Press
China again holds firm on 'zero COVID,' despite the worsening toll
Chinese officials say the government will adhere "unswervingly" to its "zero COVID" strategy, dashing hopes that authorities would loosen the increasingly unpopular controls that have dented the economy and strained public patience.
The declaration that the country would continue to follow its "dynamic clearing" policy — an approach of border controls, strict lockdowns and travel restrictions — came after two deaths linked to the measures only reignited public anger.
And a day after the announcement by a spokesman for the National Health Commission, Apple said in a statement Sunday that it expects lower shipments of iPhone 14s as a result of "significantly reduced capacity" at its sprawling factory in Zhengzhou, in Henan province. Thousands of workers there have been fleeing lockdown since late October.
Article content
China is one of the few countries in the world still pursuing zero coronavirus cases after nearly three years of the pandemic, even as the economic and human costs of its measures become clearer.
Last week, a 3-year-old boy in the city of Lanzhou died of carbon monoxide poisoning after it took his parents, obstructed by COVID restrictions, two hours to get him to a hospital. Local media reports said he succumbed shortly after arriving.
— Washington Post
Ontario may let pharmacists prescribe Paxlovid for COVID-19
Ontario is considering allowing pharmacists to prescribe the COVID-19 treatment drug Paxlovid in order to expand access, the province's top doctor says.
Chief medical officer of health Dr. Kieran Moore said recently that the health system will see a "triple threat" of COVID-19, a bad flu season and the resurgence of a childhood respiratory virus this fall and winter.
Article content
Finding ways to ensure greater availability of medication to keep people with COVID-19 out of hospital is of particular importance for more rural communities, he said.
"I do know the government is reviewing the ability of pharmacists to be able to prescribe this directly after a positive test," Moore said in an interview.
Read the full story here.
— The Canadian Press
---
What are B.C.'s current public health measures?
MASKS: Masks are not required in public indoor settings though individual businesses and event organizers can choose to require them.
Masks are also encouraged but not required on board public transit and B.C. Ferries, though they are still required in federally regulated travel spaces such as trains, airports and airplanes, and in health care settings.
Article content
GATHERINGS AND EVENTS: There are currently no restrictions on gatherings and events such as personal gatherings, weddings, funerals, worship services, exercise and fitness activities, and swimming pools.
There are also no restrictions or capacity limits on restaurants, pubs, bars and nightclubs; and no restrictions on sport activities.
CARE HOMES: There are no capacity restrictions on visitors to long-term care and seniors' assisted living facilities, however, visitors must show proof of vaccination before visiting. Exemptions are available for children under the age of 12, those with a medical exemption, and visitors attending for compassionate visits related to end-of-life.
Visitors to seniors' homes are also required to take a rapid antigen test before visiting the facility or be tested on arrival. Exemptions to testing are available for those attending for compassionate visits or end-of-life care.
Article content
---
How do I get vaccinated in B.C.?
Everyone who is living in B.C. and eligible for a vaccine can receive one by following these steps:
• Get registered online at gov.bc.ca/getvaccinated to book an appointment in your community.
• Or, if you prefer, you can get registered and then visit a drop-in clinic in your health authority.
• The system will alert you when it is time to go for your second dose.
• The same system will also alert you when it is time for your booster dose.
---
Where can I get a COVID-19 test?
TESTING CENTRES: B.C.'s COVID-19 test collection centres are currently only testing those with symptoms who are hospitalized, pregnant, considered high risk or live/work with those who are high risk. You can find a testing centre using the B.C. Centre for Disease Control's testing centre map.
Article content
If you have mild symptoms, you do not need a test and should stay home until your fever is gone. Those without symptoms do not need a test.
TAKE-HOME RAPID ANTIGEN TESTS: Eligible British Columbians over the age of 18 with a personal health number can visit a pharmacy to receive a free take-home test kit containing five COVID-19 rapid antigen tests.
---
More news, fewer ads: Our in-depth journalism is possible thanks to the support of our subscribers. For just $3.50 per week, you can get unlimited, ad-lite access to The Vancouver Sun, The Province, National Post and 13 other Canadian news sites. Support us by subscribing today: The Vancouver Sun | The Province.
Child hospitalizations are spiking. Did COVID lockdowns create 'immunity debt'?

B.C. will spend $8,800 per person on health care in 2022: Report
link