Compensation, Benefits & Pension – Unity Health Toronto
Unity Health aims to attract the best and brightest employees. We offer a Total Rewards Program that includes competitive compensation, time off, health and dental benefits, life and long-term disability insurance, and a leading defined-benefit pension plan. Employees also have access to many perks and discounts for home and auto insurance, telecom services, banking, fitness facilities, hotels, attractions, shopping and more.
Highlights include:
Regularly benchmarked compensation
Up to seven weeks of vacation
Up to 15 weeks paid sick leave
Life and long-term disability insurance

Annual increases
12 paid holidays
Robust health and dental benefits
A leading defined-benefit pension plan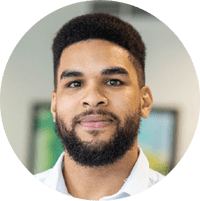 "Based on my experience, if you're hard working and willing, you'll definitely succeed within Unity Health. My hard work hasn't gone unnoticed and I don't think anyone else's would either."
– Jamar Stanton, Operations Leader Screening Pandemic Assessment Centre, Providence Healthcare


Our highly competitive salary framework is designed to recruit, motivate and retain our people throughout their career.
In keeping with our commitment to transparency and fair hiring practices, all of our job postings include a salary progression range. These salary ranges are routinely benchmarked against organizations of similar size, function and geography to Unity Health to ensure our staff are well compensated for their efforts based on market trends. In addition, Unity Health utilizes a gender-neutral job classification system and common set of criteria to conduct its job evaluations and to determine the relative value of all jobs for the purpose of setting compensation levels.
We ensure our staff are hired into an appropriate starting salary based on a fair, equitable and consistent analysis of qualifications, experience, labour market conditions, and the salaries of incumbents in the job, team or salary grade. Annual compensation increases reflect both market values and well as individual assessments based on years of service, level of performance and changes in responsibility.  Our strong culture of support for internal career progression and development is tied to opportunities for salary growth over time.


We believe that paid time off to rest, enjoy life and manage personal responsibilities is an important part of keeping our people healthy and happy. All of our full-time staff receive between two to seven weeks of paid vacation per year of employment as well as 12 paid holidays per calendar year.
In addition, Unity Health offers a short-term disability plan to all full-time, eligible staff, which provides income replacement for up to 15 weeks of sick leave.


Our benefit and insurance plans are important components of our Total Rewards Program aimed at ensuring the health and wellness of you and your family.
The eligibility and requirements for our benefit plans vary depending on your employment type and union/non-union group. Please feel free to ask for more information as part of your hiring process.
Some items covered under our standard benefit plan include:
Hospitalization
Diagnostic services
Prescription drugs
Vision care
Paramedical services
Dental care
And more
The plan also includes long-term disability and life insurance. Increased life, critical illness and accidental death insurance are available optionally.
Part-time employees have the opportunity to participate in a flexible benefits plan that includes options to elect many of the above services in addition to a health-care spending account.


The majority of Unity Health Toronto employees are eligible to enroll in the Healthcare of Ontario Pension Plan (HOOPP). HOOPP is a leading defined-benefit pension plan that provides health-care workers with a financially secure retirement. It is operated on a not-for-profit basis and governed by a Board of Trustees that acts in the best interests of members.
Features of the plan include inflation protection, pension buyback and early retirement options, and survivor benefits. HOOPP members can build their pension at more than 600 participating employers.
For more information about the plan, including the HOOPP pension formula and other features, visit hoopp.com.
We encourage you to ask questions and seek clarification about your compensation, benefits and pension during your hiring process. For information about additional health and wellness supports, leaves of absence and flexible work arrangements, visit our Quality of Work-Life: Programs for Safety, Wellness & Work-Life Balance page. For more information about funding and support for career development, visit our Career Growth: Education & Development Opportunities page.
Last updated November 21, 2022
link