Carleton Named One of Canada's Top 100 Employers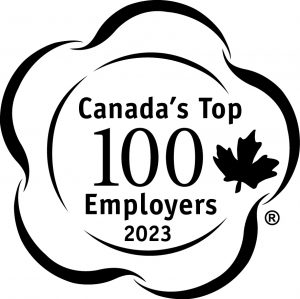 Carleton University has been named one of Canada's Top 100 Employers for the first time–a testament to the institution's commitment to fostering an innovative, equitable and welcoming work environment.
"It's the people that make Carleton a great place to work, and we can collectively take pride in this important recognition of the environment we have fostered on campus," says Carleton President and Vice-Chancellor Benoit-Antoine Bacon. "An important component of our success is that Carleton always strives to further enhance our welcoming and supportive community so all employees can thrive and fully contribute."
Fostering an Innovative, Equitable and Welcoming Culture
As highlighted in Carleton's Strategic Integrated Plan, the university is dedicated to encouraging its employees to reach their full potential. Carleton offers countless opportunities for career growth including professional development workshops for Indigenous learning and student support, as well as supervisory, managerial and leadership development opportunities. Employees are further encouraged to develop their skills and expertise through access to career development funds, teaching and learning funds and tuition benefits and subsidiaries.
"Being recognized as a Top 100 Employer confirms that the many ways in which Carleton supports our faculty and staff in their roles, are best-in-class practices," says Lorraine Dyke, Vice-President (Finance and Administration). "Carleton is a special place–it is a community of people who are collaborative and who genuinely care about each other. We are very proud of the culture we have created together."
At Carleton, health and well-being is a top priority. Regular events and activities in the university's Healthy Workplace program encourage employees to establish work-life balance, take up new skills and hobbies, create meaningful connections and prioritize movement and mental health.
"We recognize that working at Carleton is a personal journey as well as a professional one," says Bacon in an interview with Canada's Top Employer.
Carleton also offers many events that allow employees to network, collaborate and build connections. Most notably, faculty and staff gather for an annual community breakfast, where they celebrate their successes and look to the year ahead. Other engagement events such as the Service Excellence Awards, a staff appreciation day, and a holiday luncheon, provide an opportunity to recognize and celebrate employees.
Aside from its conscious efforts to build and maintain a great workplace, Carleton's location is another reason it is being recognized as a top employer. Its beautiful campus, bordered by the Rideau River and the UNESCO World Heritage Rideau Canal, provides a perfect space for the Carleton community to explore, enjoy nature, unwind and exercise.
The Canada's Top 100 Employers project is an annual national competition that determines which employers lead their industries in offering exceptional workplaces. Comparable organizations are reviewed and evaluated to establish which offers the most progressive and forward-thinking programs. They are assessed using eight criteria: physical workspace; work atmosphere and social; health, financial and family benefits; vacation and time off; employer communications; performance management; and training and skills development. Carleton excels in all these areas.
Carleton's recognition as a top Canadian employer, In the company of other organizations of note, is an exceptional honour and a point of pride. Read the Canada's Top Employer announcement here.
—
Carleton Newsroom
Friday, November 18, 2022 in Info Brief
Share: Twitter, Facebook

link