Calgarians finding ways to show appreciation for healthcare workers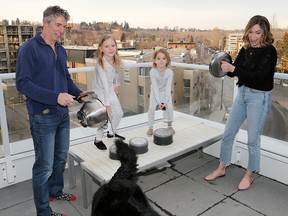 Article content
Calgarians are letting health-care workers know how much their hard work is appreciated.
Article content
With physical distancing measures in full effect across the city, increasing numbers of people are getting creative to give thanks to those on the front lines of fighting the COVID-19 pandemic.
On Friday night at 7, members of the Calgary police, fire and emergency services service turned on their sirens for a drive-by salute at the Rockyview and Peter Lougheed hospitals, displaying their thanks to the nurses, doctors and other health professionals working tirelessly through the pandemic.
Article content
The event was dubbed Lights of Hope.
At the same time, in Kensington, Gwyn and Catherine Bebb and their two kids went out to their balcony and banged on pots and pans to give thanks and applaud the sacrifices being made by the city's health-care workers.
Article content
"There's an appreciation of what's going on. We get these updates from Dr. (Deena) Hinshaw (Alberta's chief medical officer of health) and she's a great speaker-head for what's going on, but there's thousands of heroes behind that and they go about their work as professionally and as diligently as they always have despite the increased risk," said Gwyn Bebb, an oncologist.
"We're seeing statistics coming out of places like Italy and Spain where physicians and nurses are contracting the coronavirus . . . and that actually brings it close to home."
Videos from communities where people have been banging pots and pans as health-care workers change shifts in cities such as Vancouver and London, England, have been going viral on social media in the past week.
In Calgary, the Bebb family were far from alone, but the phenomenon hasn't spread quite as wildly as it has in other cities. That may change, though.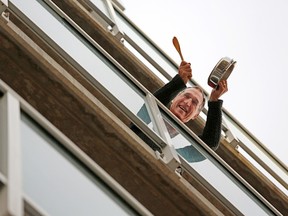 On Saturday morning, former Premier Rachel Notley and the Alberta NDP took to social media to encourage Albertans to thank front-line workers by cheering from their porches and balconies every night at 7 p.m. Calgary Mayor Naheed Nenshi encouraged the same.
Article content
Calgarians are showing their gratitude and support in other ways, too.
Calgary police Const. Chris Martin said there were around 50 participants in the Lights of Hope event, and the plan is to continue doing something similar every Friday at 7 p.m.
"We spend a lot of time working with the great people at our hospitals, our doctors, our nurses, everybody," Martin said. "We're constantly in and out of hospitals so we see the toll it takes on them. We're friends with them. A lot of us might be married to doctors or nurses, so we're acutely aware of the stresses that doctors and nurses and all health-care professionals are under right now.
"We thought this would be a great way to show not just our support for health-care workers, but our appreciation for those who are taking the government order seriously and staying home to help out our health-care providers."
Twitter: @DannyAustin_9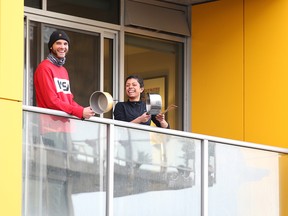 Former Calgarian stranded in Peru with no certainty of flight home

Province announces 79 new COVID-19 cases as Calgarians social distance on the streets

Calgary doctors try to ease anxieties about COVID-19 among pregnant women

link