Bang Energy False Advertising Lawsuit Settlement is $271M
Some of the largest false advertising jury verdicts were recorded in 2022. This, coupled with increased inflationary pressures will likely lead to an uptick in false advertising suits given that such pressures will impact consumer spending habits, leading to increased scrutiny of competitor advertising practices—particularly in the social media space.
This post is one in a series of posts seeking to provide a snapshot of the recent Monster Energy, CareDx and AT&T cases, respectively. The second post will detail the differences between literal and non-literal falsehoods, comparative advertising—and how presumptions can favor plaintiffs when literal falsehoods are proven. It will also provide a checklist of advertising dos and don'ts—including the importance of monitoring competitors and their advertising practices in a tightening consumer market.
Illustrative False Advertising Cases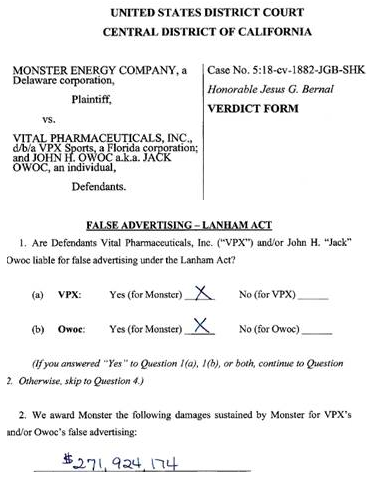 One of the largest verdicts in false advertising history (US$271 million) was recorded in late 2022: Monster Energy Co. v. Vital Pharmaceuticals Inc. d/b/a Bang Energy, 18-cv-01882 CDCA. In this case, the falsities were varied and delivered through Bang's website and social media platforms. The core focus of the dispute was on whether creatine (used in Monster Energy drinks) was the same as 'super creatine' (used in Bang energy drinks)—and whether the latter afforded the benefits touted in the advertising campaigns by Bang. The jury found in the negative to both questions, primarily because Bang's representations touting the benefits of super creatine could not be substantiated through tests, studies or other scientific data. As reported here, Bang "went from an obscure company facing financial ruin in 2015 to the No. 3 energy drink company in the United States within a few short years," doing so through false advertising. In the end, Monster was able to nullify Bang's meteoritic rise in the market by placing a spotlight on Bang's purported health benefits with the jury finding them deceptive to consumers.
The Monster Energy case followed another large jury verdict, CareDx, Inc. v. Natera, Inc., D. Del., No. 19-cv-662. That award amounted US$43 million and involved claims about the effectiveness of Natera's test for assessing the risks associated with kidney donation. The allegations found false by the jury included Natera's use of false clinical data to make misrepresentations regarding detection of kidney recipient rejection. These advertisements were also made in comparative contexts with CareDx. This further evinced Natera's intent to deceive and capture the market through misrepresentations. Such willful conduct resulted in an award of punitive damages—thus doubling the compensatory damages.
The third case, AT&T Mobility LLC v. T-Mobile USA Inc, 4:22-cv-00760 EDTX, involves AT&T's bid to stop T-Mobile's advertisement via preliminary injunction where that advertisement sought to re-frame an AT&T advertisement. More specifically, the T-Mobile ad emphasized aspects of the original AT&T ad that 92% of seniors in the U.S. cannot enjoy the 55+ discount from AT&T because they do not live in Florida.
The maps below were illustrated on T-Mobile's website: BannedSeniors.com. The website was intended to (1) draw attention to the fact that T-Mobile's main competitors (including AT&T, specifically) offer special discounted 55+ rate plans only to seniors who live in Florida, and not to residents of any other state; (2) highlight that T-Mobile, by contrast, has multiple discounted 55+ rate plans available to all seniors, regardless of which state they live in; and (3) challenge T-Mobile's competitors to make their senior discounts available nationwide. To counter, AT&T argued that T-Mobile's advertising was literally false because AT&T provides plans for seniors through a promotion with AARP. Critically, that promotion was (and still is) conditioned on the consumer having AARP membership.

Tellingly, the court denied the preliminary injunction because AT&T failed to establish a literal falsity (i.e. an unambiguous message not susceptible to more than one reasonable interpretation). As will be addressed in the next post, this difference between literal and non-literal falsities is important. Had the court found a literal falsity here, a presumption of deception would have applied. This would have more readily supported the preliminary injunction on the merits. However, because the alleged misrepresentation did not rise to that of a literal falsity, AT&T's application for extraordinary relief so early in the proceedings was denied. But that's not to say that the case won't go to trial. It still can. And if it does, it means that AT&T will need to show through survey evidence—a higher evidentiary hurdle—that the advertisement is implicitly false and thus likely to mislead the consumer.
Conclusion and the Next Post . . .
In comparing AT&T against Monster Energy and CareDx, the former will need to be proven through extrinsic survey evidence to establish the falsity, where the latter two cases were favorable to the plaintiff because they could proffer literal falsehoods to the jury that were unrebutted by the defendants. The interplay between literal falsehoods and presumptions of deception and injury will be addressed in more detail in the second post to follow.
link