Appreciation week recognizes contributions of the 190 non-profits in Timmins
Economic Development Corporation provides free services to NPOs, charities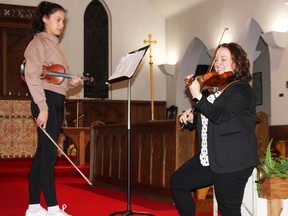 Article content
Timmins Economic Development Corporation is using Non-profit Appreciation Week as an opportunity to raise awareness of the services it offers the local non-profit sector.
Article content
Non-profit Appreciation Week is Feb. 13 to 17.
There are 190 non-profits and charities in Timmins according to TEDC's internal database, said Nicola Alexander, community development consultant with TEDC.
TEDC offers free services to help non-profits achieve their mission. Its economic development team can help with governance structures, building capacity and identifying funding sources, Alexander said.
"We tend to think of non-profits as volunteer-run organizations or charities, but what we sometimes overlook are the benefits they contribute to driving economic development, and providing employment," Alexander said.
According to Imagine Canada, a national advocacy group for charities and non-profits, the sector creates 844,000 jobs in Ontario, 77 per cent of which are held by women.
Article content
Non-profit Appreciation Week was proclaimed in 2021 by the Ontario PC government to recognize the sector's contribution to the economy. When hospitals, schools and universities are included, the non-profit sector accounts for $65 billion of the province's GDP, according to Imagine Canada, larger than the mining sector's $10 billion.
Non-profit organizations operate for any purpose but profit such as recreation, civic improvement, pleasure or social welfare, and the arts. They include business non-profits, such as chambers of commerce, and the broader public sector, such as hospitals, school boards, universities and colleges.
Unlike the for-profit sector, any profits derived from a non-profit's activities is reinvested into the mission, rather than going to benefit owners or shareholders.
Article content
Neither non-profits nor charities can use their income to benefit their members, but only charities can issue official donation receipts.
Alexander cited the McIntyre Curling Club as an example of how non-profits enrich public life locally. The club brought the U18 Curling Championships to Timmins, on now at the McIntyre arena until Saturday, Feb. 11. The event is Curling Canada's largest national championship and is estimated to bring $4 million in economic benefits to the city.
"We have in our database 190 organizations listed and they cover all kinds of missions from social services to arts and culture, sport development, addressing Indigenous social issues, and the health care sector as well," she said, adding that the list keeps growing.
Article content
Feb. 14 will mark the first anniversary of the Timmins Non-profit Community, a private Facebook group facilitated by TEDC's Community Economic Development Team. The group of 72 members provides a knowledge-sharing and peer-support forum for leaders in the sector. It was established to coincide with the first Non-profit Appreciation Week in 2022.
It can be lonely at the top, so the group has become a valuable resource for non-profit executive directors to connect with each other, Alexander said.
The Timmins Chamber has 95 non-profits (associations, and clubs) and charities out of its total membership of 640, from Mount Jamieson Resort to the Alzheimer Society.
For Non-Profit Awareness Week, the Chamber is providing their membership with a weeklong media strategy highlighting their mission, thanking the businesses that support them, and their need for volunteers.
Article content
"If you have the time to volunteer for an organization, I would encourage you to do so," said Cameron Grant, senior policy analyst with the Chamber, putting forth his recommendation to the community of Timmins.
"I think we're reaching a point generationally, where I'm seeing the same twenty or for forty volunteers circulate the same non-profits in the community. We're at risk of losing a sense of diversity when it comes to leading these organizations," he said, adding that volunteering teaches people to work together, binding the community together.
"If you can volunteer, I say step up, and you'll be a better person for it," he said.
There are 14 arts and culture-based non-profits on the TEDC list, which enhance local quality of life with music, theatre, and the fine arts.
Article content
On Thursday, Feb. 9, for example, concert violinist Mary Elizabeth Brown was brought in by the Timmins Symphony Orchestra in advance of this Saturday's concert to give a Master Class to budding young violinists.
Brown coached 13-year-old Eliane Cooper's performance of "The Boy Paganini," by Eduard Mollehnauer, to a small audience of fellow musicians and their families at St. Matthew's Cathedral.  The piece is the German composer's impression of what the Italian virtuoso violinist Paganini, a musical star in his day, would have been like as a child.
"You play the violin beautifully, but it's a little shy," Brown told Cooper.
With a few pointers on dynamics, bow placement and intention, Cooper's performance came to life.
Article content
"Non-profit Appreciation Week is an opportunity to celebrate the vital role non-profits and their dedicated workers play in creating and maintaining healthy vibrant and inclusive communities across Ontario," read a statement from TEDC released Wednesday.
Alexander is looking forward to April, when the Ontario Non-profit Network will be hosting its regional event in Timmins in partnership with the TEDC, an in-person opportunity for the sector to engage and network in person, she said.
Any local non-profit looking for support in achieving its mission is invited to contact Nicola Alexander, TEDC's community development consultant, at [email protected] or 705-360-2600 ext. 7099.
link